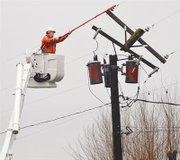 One Sunnyside-owned pet was prepped and ready to go for a minor surgery as the power went out yesterday near the Sunnyside Pet Health Clinic due to a pole fire in the 2200 block of East Edison Avenue.
Some could say it was fate saving him, others say it was a temporary delay.
In addition, it was lights out for several businesses and homes in Sunnyside yesterday afternoon and evening due to multiple weather-related power outages. Some local residents say, too, cell phone towers were also down, making it hard for locals to contact loved ones in the dark.
Sunnyside firemen responded to two pole-fire incidents yesterday, one near Scoon and Outlook roads at around 10 a.m. yesterday morning and the other on East Edison Avenue just before 11 a.m. Officials say both fires took just a few minutes to extinguish and were likely set off from dust build-up and rain, which caused the poles to catch fire.
Pacific Power spokesman Tom Gauntt says nearly 900 customers in the Sunnyside area were without power until about 8 p.m. last night. At that time, just 170 were still left without power. Gaunt says that by midnight, three were left without power and as of this morning, one was still without power.
Gauntt says the outages occur when dust is combined with just the right amount of humidity, causing the ingredients to combust. Officials worked all night to quickly resolve the issue, Gauntt added.
Sunnyside firemen also responded to four calls for aid yesterday. Of the calls for aid, two people were transported to Sunnyside Community Hospital. In addition, one hospital patient was transferred to another area facility.