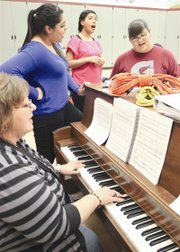 GRANDVIEW - In the opening act, two rival teenage gangs, the Jets and the Sharks, dance through their conflict over who will control the neighborhood.
The rival quickly turns into a forbidden romance between Maria, the sister of the Sharks leader, Bernardo, and Tony, who is associated with the rival Jets.
A novice to the lead-role in this year's Grandview High School production of West Side Story, Inez Torres, a ninth grader, is said to have a voice so captivating, casting her in the role of Maria was more than fitting.
These high schoolers are staging West Side Story production April 26-27 and May 3-4 at Grandview Middle School.
Tony, Maria's forbidden love, is played by fellow student Antonio Castillo.
Also taking center stage in lead roles are Jets leader, Riff, played by Milagro Castilleja; Steven Barrientes, playing Bernardo; Luis Barajas who will be playing a Sharks member named Chino; and Taylor Colson, who will be acting as Anita, Bernardo's girlfriend.
Also taking the stage in this Grandview spring musical are students Josh Champion, Brendon Lynch, Jonathan Licea, Jorge Montano, Curtis Clute, Nathan Barrientes, Joseph Trevino, Andrea Reyes, Samantha Bailes, Abigail Ocampo, Cecilia Coronado, Analilia Granados, Kassidy Hurst, Neira Jiminez, Devan Shea, Emily Cisneros, Sajida Momin, Briana Biggs, A.J. Valenzuela, Jacob Siegler and Ricardo Orta.
Admission to the play is $6 for adults, $3 for students and senior citizen. Admission for children six years and younger is free.