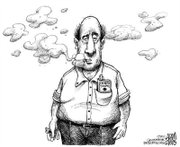 I started smoking cigars with my guy friends in college, then the urge for nicotine hit harder as I became engrossed in the sometimes stressful days of a journalist. Then smoking cigarettes became just something I did.
Smoking also became the way I thwarted writer's block. If I couldn't come up with the words to write, stepping outside with a lit cigarette in hand seemed to clear my head.
Then, smoking cigarettes became a ritual of sorts when driving long distances or when visiting the local watering hole.
This past Christmas Eve, I smoked my very last cigarette. Occasionally, I will enjoy a smoke-free, nicotine-free electronic cigarette, if the need behind the wheel or at the local bar becomes too overbearing.
I've quit smoking many times before, but this time I mean it, I think.
I tried it many times before, often times without any medical help. This time I used a smoking cessation medication, which seemed to work quite well.
If you can get past the very vivid, sometimes scary dreams the medication gives you, it's all worth the while to say you may just live a little bit longer.
At any rate, food tastes better and climbing a flight of stairs doesn't totally kill me anymore. I can even sustain an hour at the gym without feeling like it's the end of the world.
It was hard, and I honestly didn't get as much support as you might think. But for those who did support me, and to my boyfriend who quit with me, I am thankful.
I only hope our readers who want to quit smoking can find encouragement in my small success.
Good luck!