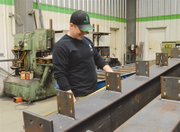 GRANDVIEW - When Coleman Rowland was laid off from his position at a locomotive re-build station, the welder wasn't certain about his future.
A friend told him about a position at Columbia River Steel and Construction in Grandview.
Rowland was hired by the firm in 2001 as a field welder and moved his wife and two sons to Grandview to start a new life.
He said the firm provided him many opportunities throughout the years to "...expand my role and advance, which is great for raising a family."
Those opportunities were embraced by Rowland, who is now the firm's shop supervisor in the steel division.
"I like supplying the Northwest region with a quality steel product that is made in Washington state," he said, stating the steel manufacturing industry has a competitive market and he believes Columbia River Steel and Construction is unique in that it produces products that many companies do not.
He said there are challenges associated with the work. "Trying to be versatile...one week we could be constructing a staircase and the next week we could be manufacturing end beds for the construction side of the business."
Rowland said there are specifications and welding procedures that must be followed to manufacture a sound, quality product. "We have to assure a high level of control," he said.
"We work with so many numbers...so many dimensions," said Rowland, noting maintaining quality control is of utmost importance.
"Working for Columbia River Steel and Construction has been unbelievable," he said, stating he enjoys working with a high caliber company that has opened doors for him.
As a supervisor, Rowland is provided the opportunity to teach others the skills that will help them advance their careers.
"What I'm teaching my guys is rewarding," he said, stating it is his goal to help the men who work under his supervision.
"A good manager is someone who helps others do a good job...their skills are a reflection on you," Rowland said.
For him, that is the exciting part of the job. He said he enjoys giving others the tools necessary for improving professionally, believing professional advancement improves personal lives as well.
"When I started working here I was building dairy fences...I've seen the company grow and I am proud to be a part of it all," said Rowland.