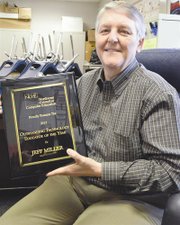 GRANDVIEW - It takes a commitment to helping students pursue knowledge in technology through computers, robots and other resources to further their educational opportunities.
That is the belief of Grandview Middle School teacher Jeff Miller, who has been helping students at the school achieve academic success for 37 years.
He has spent his entire career seeking ways in which he can engage his students, giving them the tools that may help them seek a future filled with hope.
Miller has taught band and math, but in recent years he turned his focus to technology. He is the computer, technology and Science, Technology, Engineering and Math (STEM) educator at the school.
He has worked for Intel's Teach to the Future and the Gates Foundation, as well as the Northwest Council for Computer Education in conjunction with teaching.
It is the Northwest Council for Computer Education that recently recognized Miller's efforts to help youngsters gain skills in the technology field.
A committee reviews the resumes of teachers throughout the region. Teachers from Washington, Oregon, Idaho, Montana and Wyoming are all considered when the committee seeks to name its outstanding technology educator of the year .
This year, it was Miller that was named the recipient of the award.
"I was surprised...there are a lot of good people who are very qualified...it's humbling," said Miller.
He said teachers considered for the award do a lot for their students. He has been teaching students at Grandview Middle School through the use of robotics and computer programs.
STEM, he said, was recently implemented at the school and it engages students through project-based learning.
In computer class students use auto-desk inventor, taking a 2D drawing and converting it to a 3D model in virtual space, "...which is how many things are constructed."
Miller explained, stating many architects and engineers use computer modeling before construction of a final product.
"I enjoy what I'm doing...I like the curriculum and plan to be around for a while," said Miller, stating teaching is a passion that gives him a challenge.
He jokingly said, "It gives me something to do and keeps me out of trouble."
All kidding aside, he believes he is helping to shape the future by channeling the energy many middle school students have in a positive way.
"They can do some amazing things," Miller said, adding, "All students need to have technology skills because that's the age we're living in."
He said he believes that technology skills give students an advantage for the future.
It's that belief and Miller's commitment that were recognized when he was named outstanding technology educator of the year by the Northwest Council for Computer Education.