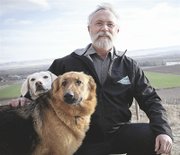 OLYMPIA - "It's not unexpected, but I certainly would like to have continued," is how Dan Newhouse describes the news today that he will be out as the state's ag director.
In an interview this morning, Tuesday, with the Daily Sun News, Newhouse confirmed Gov. Jay Inslee's decision to appoint a new ag director. Newhouse will serve in the post through the end of this month.
"This is a political appointment. I knew this was a real possibility," Newhouse said, noting he is the ag department's 21st director in its 100-year history "Governors usually want their own team and it's something you have to accept."
In a statement released this morning, Inslee appointed Bud Hover, an Okanogan rancher to replace Newhouse. Hover is a former Okanogan County commissioner and current chair of the state Salmon Recovery Board. His family runs a 2,300-acre hay and cattle ranch in Winthrop.
While praising Hover's experience with ranching and water issues, Inslee also gave credit to Newhouse. "Dan is held in high regard for his adept leadership, and deservedly so," said Inslee. "He's helped steer this department and this industry through some challenging times. I thank him for all his service."
In 2009 former Gov. Christine Gregoire appointed Newhouse, a longtime Sunnyside-area resident and farmer, to the ag director post. Elected to four terms in the Washington State House of Representatives, Newhouse's appointment crossed party lines with Gregoire, a Democrat, appointing the Republican lawmaker. Newhouse stepped down from his seat in the House to accept the ag department's top job.
Praise near and far
There's praise this morning for Newhouse's leadership in the Department of Agriculture not just from the governor's office, but from both local and state officials, and even a neighbor.
"I thought he was great for the Department of Agriculture," says Jim Trull of the Sunnyside Valley Irrigation District. "He obviously knows the issues from the ground up, coming from a long line of family farmers. I'm sorry he's not continuing."
Janet Leister worked with Newhouse as the ag department's director for International Marketing. Today she is general manager for the Washington Dairy Products Commission.
She lauds Newhouse not only for his work in the ag post, but on behalf of dairies.
"Dan Newhouse did a tremendous job. He understood the diversity of the state's agriculture and supported both large and small endeavors," said Leister. "He was an excellent representative on trade missions. He was a wonderful advocate for the dairy industry and agriculture in general."
Ted Durfey operates a farm on Emerald Road, not far from Newhouse's.
"It will be good to have him back in the neighborhood, but I find it unfortunate they've decided not to have him stay as the director of agriculture," Durfey says. "I don't think you could find a more honest, sincere person. It's a testament to his character."
He continued, "I've known Dan for several years, and I really feel like he was giving agriculture a lot of unity in the whole state."
Future plans
With the "bittersweet" news of his departure from Olympia, Newhouse says he's looking forward to "just being a citizen of Yakima County" again.
"I'm looking forward to coming home and raising hops and working with my family operation," Newhouse said of returning to the 600-acre farm he and wife Carol own. "I've been away from home for a long time and I'm looking forward to getting back into the community."
Yet, he admits the years of service in Olympia are hard to leave behind.
"Public service gets into your blood," Newhouse says. "I certainly enjoy helping people shape policy that impacts us as a state."
A return to office isn't in his immediate plans Newhouse says, as he focuses on wrapping up his work in the ag department.
As for holding office again later on, it's something of a wait-and-see approach.
"It's not something I'll say no to if there is some place I feel I can contribute," he says. "But I have no definite plans on what that will look like."