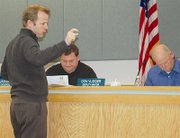 After listening to three presentations on payroll and financial services at Monday night's meeting, the Sunnyside City Council decided to request proposals while contracting with BIAS Software for month-to-month services.
Sunnyside already has a contract with BIAS Software and has been working with the company for the past six months to convert the city's payroll to the BIAS system. Mark Felchlin of BIAS Software described the process as being nearly complete.
"Our conversions typically take about two months," he told the council. "But we've had some challenges. Partially because of turnover and trying to pin down people and get set up going. Resources are very thin in Sunnyside right now."
Felchlin also noted that BIAS Software has been working on the city's financial system. He said that his company focuses on software and works with small government-based organizations, but will temporarily assist with financial needs by providing professional services to such organizations.
Felchlin recommended the city allow his company to finish the conversion process. He promised the city would not accrue new penalties once the software is up and running. He also suggested that the city get more information on payroll services with the understanding that moving to an outsourced system will take a lot of resources initially.
After Felchlin made his presentation, the council heard from two companies that offer payroll and human resources outsourcing.
Eric Sawyer of BBSI provided a handout that summarized his company and its benefits. He also brought along a satisfied client, Kathy Jennings, the director of finance for the Portland Timbers soccer club, to give a testimonial to the city.
Also presenting were Kendal Detrick and Shannon O'Connor of Paychex Services. They also provided an overview of their services with a handout to the council.
The presenters said outsourcing would cost between $10,000 and $63,000 a year, depending on what services were provided. Both payroll companies said their contracts would be month-to-month and both companies would integrate with the BIAS Software system.
At the end of the meeting the council decided to authorize Acting City Manager Aaron Markham to sign a contract with BIAS Software for temporary financial services on a month-to-month basis, including assistance in preparing requests for proposals for a payroll outsourcing company.