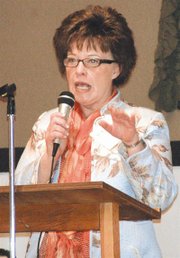 PROSSER - "It's important to know whose hand you're holding," Phyllis Vavold of Nampa, Idaho told the Lower Valley Christian Women's Connection yesterday.
Vavold was the featured speaker during the group's monthly luncheon meeting Monday at the Barn Restaurant in Prosser.
She talked about the importance of a relationship with Jesus, one of trust in placing your hope and life in his hands,
Vavold recalled stories and adventures with her husband George, including a white-knuckle ride down the Snake River rapids clinging onto a rope on her raft.
Those travels included a fatal trip to the Oregon Coast in 2004, where she and her husband were hit-head on by a stolen car traveling at 130 miles per hour. The car, full of teens, hit and rolled over the Mustang convertible she and her husband were traveling in.
Her husband died instantly in the crash, while Vavold was the only survivor as the stolen car erupted in a ball of fire after impact.
"It's a miracle I'm alive," she said, noting her year-long recovery required six surgeries for a litany of injuries that included a broken hip and a fractured spine.
She said there was grief and despair in dealing with a broken body and a broken heart in losing her husband. "It was day by day, sometimes moment by moment," Vavold said.
What got her through the ordeal - gets her through it still - goes back to that relationship with Jesus she developed during her teen years.
She said questions about why her husband died and why she lived haunted her. Vavold still doesn't have the answers, and says that's okay.
"Knowing God is better than knowing the answers to all the questions," Vavold says. "There is no circumstance, no tragedy in Heaven or Earth that can come between you and God when you place your hand in His."