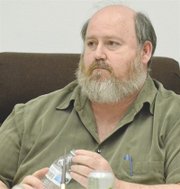 GRANDVIEW - Approximately $60,000 from Grandview's Transportation Benefit District will be used as matching funds for two pending street improvement projects slated for this year.
That's thanks to approval granted last night by the Transportation Benefit District board, which consists of Grandview City Council members.
To complete the projects, 10 percent in matching funds had to be provided by the city when applying for the state's Transportation Improvement Board funding, according to Santos Trevino of the public works department.
He said two projects are to be completed this year, including the Euclid Road improvement project and the West Second Street improvement project.
Trevino, giving an update on the progress of the projects, said the public works employees recently conducted a pothole survey of the roadways in Grandview. During that process they evaluated the depth of the asphalt on Euclid Road and West Second Street, noting there is about four inches of asphalt that will be dug up for improvements.
The Euclid Road improvement project has already begun, he told the Transportation Benefit District board. Grinding the roadway is the first step in the project and in April the project will begin in earnest.
The project is set to be completed by the end of June.
"The gas company has also measured the depth of its lines," Trevino said.
Grandview City Treasurer Matt Cordray said the Transportation Benefit District fund levels are healthy.
Because revenues to the fund were not recorded in the first two months of 2012 the first two months of revenue collected this year are looking much better.
The revenue for the Transportation Benefit District is received as a result of a $20 car tab fee added to the vehicle registrations of Grandview residents.
The Transportation Benefit District Board approved the funding for the street improvement projects by a 5-0 vote.