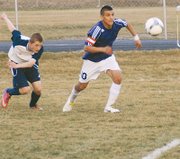 MABTON - The Mabton Vikings came out in full force last night, earning an 11-1 victory over Naches.
"Naches has a new coach...they started strong," said Mabton Coach Junior Garcia.
He said it was a good outing for the Vikings, however.
Mabton, said Garcia, took control of the game from the onset, dominating the offensive end of the field.
There were three goals scored in the first seven minutes of the match.
Viking Crisantos Chavez scored the first of his goals in the second minute of the match. He would eventually earn a hat trick.
Providing the assist was Mauricio Palominos, who also had a good night, providing a total of three assists and scoring two goals of his own.
It was Josh Carrasco who scored Mabton's second goal off an assist by Palominos.
Tony Espinoza scored the third goal for the Vikings on a cross from Palominos.
Chavez took control of the ball at the 11th minute and dribbled it past the Rangers defense. He spotted an opening and capitalized on a shot to give Mabton a 4-0 advantage.
Mabton worked the field a little before scoring the fifth goal in the 24th minute. It was Daniel Cambron that took advantage of an assist by teammate Miguel Abundez for the goal.
Palominos at the 30th minute scored a goal off an assist by Chavez.
In the 36th minute Espinoza scored off a cross that he deflected into the net, improving the Vikings' score to 7-0.
Mabton's eighth goal was scored in the final minutes of the opening half. That's when a Naches player scored on his own goal.
Mabton led the match 8-0 at intermission and didn't give the Rangers much opportunity in the second half of action.
The team did, however, give Naches an opportunity to run around the field some more. But, in the 60th minute Jose Andrade of the Vikings booted the ball into the net off an assist by Palominos.
Naches finally got on the scoreboard in the 63rd minute of action. Nicholas Cullier scored the lone goal off a deflection when a Mabton defender tried to clear the ball from the goal box, according to Garcia.
Palominos scored one minute later and Chavez ended the match, getting the ball past the crossbars off an assist by Edgar Cisneros.
Mabton will travel to Connell this coming.
Garcia said that match will be closer because the Eagles field a strong team.
"I expect it to be a good game," he said.