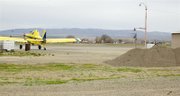 The Washington State Department of Ecology has drafted an order for the city of Sunnyside to conduct an investigation into toxic chemicals that were allegedly dumped on city property near the Sunnyside Municipal Airport.
Ecology first received a complaint about the possible contamination in October 2008 when a storage shed that had been used for pesticides was removed. The complaint, made by Don Padelford of Sunnyside, alleged that chemicals had been dumped at the site when the polluted shed was torn down.
During the summer of 2010 the department of ecology conducted limited soil sampling and found high levels of some pesticides and degradation products. The site was added to Ecology's database of confirmed or suspected contaminated sites in October 2010, and the city was notified at that time.
The draft order requires the city of Sunnyside to conduct a full investigation of the site that will result in an action plan, if necessary.
The public is invited to comment on Ecology's order for the investigation. The full documents related to the case are available for viewing at the Sunnyside Public Library, Ecology's Yakima office or at Ecology's toxics cleanup website at https://fortress.wa.gov/ecy/gsp/Sitepage.aspx?csid=11423.
Comments or questions should be submitted to Jennifer Lind, site manager, at WA Department of Ecology, Toxics Cleanup Program, 15 W. Yakima Ave., Ste 200, Yakima, WA 98902-3452, by phone at 509-454-7839 or by e-mail at Jennifer.Lind@ecy.wa.gov.