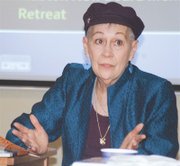 Increased graduation rates, making sure students are ready for college, more parental involvement, improved class scheduling and bringing back a school librarian position.
Those are just some of the hopes Mabton School Board members shared last night, Wednesday, during a nearly four-hour board retreat.
Held in a conference room at the Best Western Grapevine Inn in Sunnyside, the retreat was facilitated by Elaine Porter-Cole of the Washington State School Directors Association.
"I really don't choose to work with many boards, but I have a special heart for Mabton," she told board members last night. "This has become an important and successful school board over time."
Porter-Cole, whose background includes work as teacher, principal and school superintendent, asked Mabton's board members to share their hopes and dreams for students in their district.
A Sunnyside resident, Porter-Cole called on board members to not just dream, but to consider changes to continue the progress in Mabton.
"As a board/superintendent team together you can share a vision and goals to make your hopes and dreams come true," Porter-Cole told board members after they shared their hopes. "Annually update your goals."
That idea of updating, refreshing the district's outlook, extended to the way the board holds its monthly meetings. Porter-Cole encouraged board members to have more discussions during their meetings.
"The public needs to know what you're thinking, not just how you're voting," she said.
She also challenged them to refine a list of protocols for the meetings that came about five years or so ago when board sessions at times lasted until midnight.
She told board members their district has come a long way since that time, and the problems faced then with keeping meetings under control are no longer an issue.
Board member Jeanette Williams agreed, noting consent agendas - usually routine business items swiftly okayed in one motion without discussion - have included too many items in response to the marathon meetings the board used to have.
"We may have swung the pendulum too far the other way," Williams said.
Board Chair Elsa Sanchez reminded her colleagues they can ask for items to be taken off the consent agenda for further discussion and later action. Porter-Cole added that board members should let Sanchez know ahead of time if they want an item pulled from the consent agenda.
"It's healthy to ask those probing questions to gain a better understanding," Superintendent Minerva Morales added. "It creates open dialogue and transparency, and the public sees that."
Sanchez said it's also healthy for board members, including new ones, to disagree from time to time.
"It is okay to vote no. I want you feel comfortable to do that," she said. "I don't want you to think that it's a rubber stamp board."
Porter-Cole noted if there are disagreements, the board needs to be united when the meetings adjourn.
"When you walk out of the meetings you have to support the decision, even if it's a 3-2 vote. You are a team and you support the decision as a whole."
She cautioned school boards with frequently divided votes aren't healthy, though.
"Boards that consistently vote 3-2, that's not a board coming together," Porter-Cole said. "It's a split board with a swing vote turning it one way or another."
The board also discussed refining agendas so that students and groups making presentations are encouraged to provide a brief summary ahead of time so that board members can be prepared with follow-up questions.
During its next regular meeting on Monday, March 25, the board will likely take up proposed changes for its protocols.