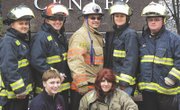 SEATTLE - Area firemen climbed for a cure last Sunday at the annual Scott Firefighter Stair Climb at the Columbia Center tower in Seattle.
In full gear and oxygen tanks, firefighters climbed 69 flights of stairs. That added up to 1,311 steps to reach the deck overlooking the city. The Scott Firefighter Stair Climb supports the mission of the Leukemia and Lymphoma Society, raising money through sponsorships, individual and department fundraising and entry fees.
Coming in first among local competitors was Sunnyside fireman Ryan Savage, who completed the climb in 18:38.
Tony Castillo was just behind him with a finish time of 19:98. Grandview fireman Erubiel Clara finished the race in 20:20, while coworker George Saenz crossed the finish line in 22:08. Firefighters Ingrid Mortensen (23:22) and Maira Olivera (26:26) also participated in this year's climb. Fellow firefighter Eric Stanton wasn't able to finish the race due to an injury. Also helping with the climb was Kateland Hurst of the Grandview Fire Department and Sunnyside Fire Department Capt. Mike Beckwith, who both helped firemen change their air tanks at the 40th floor of the climb.