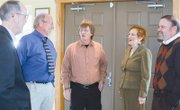 GRANDVIEW - It's not so much a merger as it is a meeting of the minds.
That's probably the best way to describe a recent partnership between Faith Family Fellowship and Lower Valley Christian Fellowship, both of Grandview.
Faith Family started a year ago as a breakaway from Bethany Presbyterian, while Lower Valley Christian is more of a community church.
The two congregations - each retaining their own church names, elders and offerings - started holding joint worship services this month at 1915 W. Fifth St.
They have different backgrounds but share the same essentials, such as believing in the deity of Christ and that the Bible is God's word.
"The focus is on Jesus Christ," says John Flodin of Lower Valley Christian, who plays guitar for the combined worship services.
As for areas where views differ, the two churches are accommodating each other. Lower Valley Christian, for example, has communion every Sunday while Faith Family's Presbyterian background typically calls for communion once a month.
Carl Raymond, an elder for Faith Family, says members of his church have no issue with those who have communion weekly and they are free to partake or not as they wish each Sunday.
Raymond says from its founding Faith Family had sought ways to expand its reach into the community. Partnering with Lower Valley Christian, he says, is a perfect fit for meeting that need.
Pastor Lance Ziegler has a unique perspective on the church partnership.
As a former pastor for Bethany Presbyterian, he's well familiar with members from Faith Family. But he also has relationships within Lower Valley Christian, as he has been attending that fellowship since last year.
Ziegler says both churches are "Christ-centered" and have "...solid Biblical teaching and preaching."
Besides sharing worship services, the two churches share in costs and both take turns in providing speakers for Sunday morning worship on a rotating basis.
Raymond says there is talk of the two churches perhaps combining to offer a VBS this year.
There are no immediate plans to turn this meeting of the minds into a merger, but both churches are enjoying the journey together.
"I think it's been great," says Randy Reed, an elder for Lower Valley Christian.