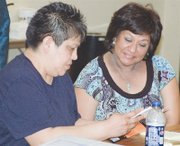 With two of its five members appointed in just the last three months, the basics were in focus during the Mabton School Board's annual retreat held this past Wednesday in Sunnyside.
"The business of being a board member is not as easy as most think," said retreat facilitator Elaine Porter-Cole. "It has a quick learning curve that is unending. It's a lot of work."
Porter-Cole is a consultant with the Washington State School Directors Association. Something of a school board 101 primer, the information she provided was intended for the group as a whole, but especially for new members Elizabeth Cerrillo, appointed last month, and James Adams, appointed in December.
She cautioned no individual member should be able to dictate the district's agenda. "You have to come together as a team of five," she said.
Other words of wisdom Porter-Cole shared for the board included:
- As a board member you never take your hat off. She explained that although board members may see themselves as just parents or community members when they visit schools or attend a school event, the public will still see them - including their words and actions - as school board members.
- Try to resolve a complaint at the level of origin. If approached individually by someone to take action on an issue, Porter-Cole reminded board members their most important job is governance. Issues in a school, she said, should be first handled by the classroom teacher, then by the principal and, if there is still no resolution, then brought to the superintendent. The last resort is to bring the matter to the school board.
- You can fall into litigation if you're not following policy. Porter-Cole on this point noted that policies related to personnel and other issues must be followed or the district could open itself to lawsuits.
While on that subject, she praised work by Mabton's school board and superintendent in revising and updating district policies over the past year.
- All your work and best thinking needs to be done in public. Porter-Cole emphasized that board members are to be transparent and to make sure their voting and action is done at public meetings. Follow the guidelines on executive session, she added, and don't share with anyone - even spouses - discussions that take place in executive session.
- Return on investment. The volunteer job of serving on a school board means long hours and can seem overwhelming at times, Porter-Cole told Mabton's school board members. She said that makes it all the more important for them to remember why they do what they do, the "return on investment" or outcomes that result from their efforts.
School Board Chair Elsa Sanchez was emotional as she shared the "return on investment" she is seeing in Mabton schools.
"We have wanted for a long time to have college level courses in the high school and right now that is happening," Sanchez said, wiping away tears. "The kids are getting excited. It excites me when you hear people talk about what is happening."
Sanchez said the progress with students in the district is what it's all about, and she challenged her colleagues on the board to keep the momentum going.
"I get excited for what's next," she said. "Let's sustain it and see what the power of it will be for future generations."