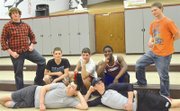 GRANDVIEW - The seventh annual Mr. Grandview Pageant will take place on Saturday, March 23, at Grandview Middle School.
Nine Grandview High School juniors and seniors are vying for the Mr. Grandview title.
They include Kaelen Clute, Harley Hurst, Mitchel Wagner, Kory Kollmar, Josh Champion, Joesiah Saunders, Quaid George, Austin Door and Arthur Alcazar.
Organizing the 2013 pageant for her senior project is Kaylee Greene.
She said this year's theme is "Superheroes."
"I like being involved in drama and Mr. Grandview is very similar," said the Grandview High School senior.
The pageant is also a fundraiser for arts programs at Grandview High School, including drama.
Greene said she organized the Mr. Grandview Pageant last year, as well.
"It's very close to my heart," she said.
Each of the young men competing for the Mr. Grandview title will be judged for their fitness routine, talent, casual wear, formal wear and interview.
Greene said the interview will be conducted during the formal wear segment. Judges will also score the contestants on poise during that segment.
"There's a lot to organizing the pageant," said Greene, who is responsible for choreographing the fitness portion of the event.
She said she had to get the boys signed up for the pageant, which means she had to recruit and advertise for it.
"I have to write the program and the script...and I have to have patience dealing with the boys," Greene joked.
Admission for the pageant will be $6 for adults and $3 for students and seniors.
The pageant will begin at 7 p.m. on March 23.