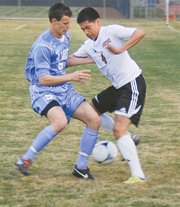 What a difference a day off can make.
After scoring just one goal in its first two regulation-length matches - plus going scoreless in a pair of mini-matches at a Richland jamboree a week ago - the 3A Grizzly soccer team pounded visiting 2A West Valley last night, 6-0.
The Grizzlies had opened the season with two road matches and an away jamboree in a span of just four days.
"The players had a day off and we focused on trying to find the right combination of players and on finishing our plays," said Coach Dave Guevara.
Sunnyside's home opener Thursday night saw the Grizzlies jump out to a 2-0 lead at the half thanks to a goal in the 23rd minute by Cristian Chavez, assisted by Oswaldo Lopez, followed by a goal in the 31st minute off the foot of Osmar Alvarez.
Sunnyside was just getting warmed up, though, as it found the back of the net four times in a span of just over 20 minutes.
The onslaught started in the 49th minute when Sunnyside's Marcelo Madera found Jose Chavez for a score to make it 3-0.
Jesus Marquez then had a hand in Sunnyside's final three goals. The first was an unassisted score in the 53rd minute, followed by an assist for Cristian Chavez's second score of the match in the 60th minute.
The Grizzlies' sixth goal of the day came inside the 70th minute, when Madera booted home a goal thanks to Marquez's second assist of the match.
Sunnyside's domination over the Rams was not only highlighted on the scoreboard - where it matters most - but also on the stat sheet. Sunnyside (1-2) for the third straight match was in double digits for shots on goal, drilling 18 shot attempts to just six for West Valley.
Grizzly keeper Max Ramos was stout at the net, recording six saves last night.
Guevara said one of the keys to his squad's outburst on offense can actually be attributed to defense.
"Our forwards are our first defenders," he says. "They were attacking, it was a total team effort."
Sunnyside will continue its non-league schedule against CWAC teams tomorrow, Saturday, when it takes on Toppenish.
"It will be a tough match," Guevara said of facing the Wildcats. "Toppenish could be a title contender in the CWAC."