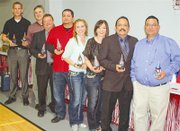 With a carnival theme backdrop, the Spirit of Sunnyside Awards Banquet last Saturday night honored a princess, a principal, a paper and a port official, among others.
Held at the community center and sponsored by the Sunnyside Chamber of Commerce, the awards ceremony and banquet attracted a sold-out audience as one surprised recipient after another were handed awards as selected by the chamber.
Former Miss Sunnyside Princess Geordan Skyles garnered the Youth Award for 2013. "A senior at Sunnyside High School this person volunteers their time at the Assisted Living Center every Wednesday without fail," Mayor Jim Restucci said in honoring Skyles. "While serving as a first princess on the Miss Sunnyside Court, she served over a 1,000 hours representing this community throughout the state from 2011-2012."
Skyles was also praised for organizing a blood drive for her senior project.
The Business Person Award was presented Saturday to Jesus Ramos of La Paleteria Nortenia. He garnered praise not for serving as everything from salesman to janitor in running his own business, but also for his support of the Sunnyside community. Restucci noted that Ramos creates his product using local produce.
"Along with running his business, he donates his time and energy to many community events and last year served as a member of the Sunnyside community float crew," Restucci said of Ramos, who recently was a finalist for the Hispanic Business Person of the year.
The Spirit of Sunnyside Business of the Year for 2013 was Imperial Screen Printing & Embroidery. "In May of last year they opened their doors with a vision to provide our community with professional looking clothing and apparel," Restucci said.
"With the uncertainty of today's economy, opening a business right now is definitely a scary proposition; however, opening a business and locating it in the downtown core is in my opinion a courageous act, and one that deserves to be honored," the mayor continued. "By doing so, they are doing their part to ensure our downtown core remains vibrant and business friendly."
Imperial also earned high marks for owner Jose Salas' participation in community events and his active role in the Sunnyside Chamber of Commerce. "In my humble opinion, I can honestly say we definitely need more businesses like this one," the mayor said.
Long time Sunnyside resident and school district employee Dan Aguilar garnered the Hero of the Year Award Saturday night. Restucci praised Aguilar for devoting "countless hours to the Miss Sunnyside rehearsals and pageant." In his comments, Restucci also gave Aguilar kudos for his help with senior projects, plays and other community events.
"It has been said that a hero is someone who comes to the rescue, and that definitely describes this individual," Restucci said. "They are always there, but hardly ever seen, and without them many of the events we all enjoy would just not happen."
Port of Sunnyside Commissioner Jim Grubenhoff garnered the Spirit of Sunnyside's Public Official of the Year Award for 2013.
"As your mayor, I can honestly tell you, that there are very few meetings that I attend that deal with the well being of this community that I don't see his face," said Restucci. "I have had the distinct pleasure of working together with this individual on numerous projects, and I am proud to call him my colleague and friend."
Patsey Wiersma received the Volunteer of the Year Award for spending much of her free time "cooking, cleaning and feeding people who need a helping hand." Restucci added, "The Volunteer Award this year goes to someone who is very deserving, but they wouldn't believe so. You would never know that this hair stylist who also serves up burgers and wine, is also a devoted volunteer."
Wiersma was acclaimed for selfless acts, such as shuttling people to Seattle for doctor's appointments. Further, Restucci noted she also recently assisted a colleague with a broken leg by taking care of her clients.
The 2013 Educator of the Year Award went to SHS Principal Ryan Maxwell. He was praised for his work teaching at Pride High School, followed by school administration work that led to him becoming principal.
"This year's Educator Award goes to someone we all know and respect," Restucci said. "This individual is a positive role model and well respected amongst both their peers and the students alike."
Rounding out the Spirit of Sunnyside awards presentation Saturday night was the 2013 Pioneer Award garnered by the Daily Sun News.
"It is what many would call our community's Fourth Estate," Restucci said of the newspaper. "It has been with us during our greatest triumphs and worst defeats. Their thought provoking articles and photos they have captured the attention of not only our community but sometimes the entire nation."
Saturday's awards event was more than an opportunity to celebrate accomplishments, as a dessert auction provided a chance for the audience to further support the community.
Combined, the desserts garnered more than $600 in donations for local causes.