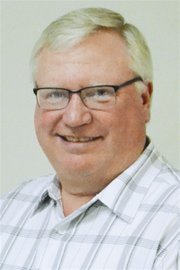 Some people in the Lower Yakima Valley may remember Bill Clemens from the mid 1990s when he worked from the Sunnyside office that no longer is in operation.
Clemens left the area to serve as regional community manager in the Walla Walla area, but recently took over the Yakima Valley region when the company merged the two regions together.
Pacific Power Director of External Communications Jan Mitchell said, "We are doing more with less."
On Dec. 31, 2012 Clark Satre, the Yakima Valley region's former community manager, retired. Clemens took over Satre's responsibilities the next day.
The new territory spans from Wallla Walla to Naches, according to Clemens.
He said it is his job to "...interface with communities as a point of contact with government and to promote economic development.
"I also take care of corporate contributions."
Clemens is essentially the face of Pacific Power, meaning he will be the person seen by the public at various meetings and events throughout the region.
"I look forward to seeing some familiar faces," he said of working with communities in the Yakima Valley.