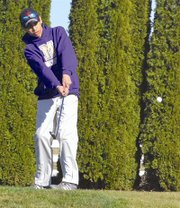 If nothing else, the Grandview High School boys golf team has been consistent in its two heads-up matches this spring. Last week at Ephrata and yesterday at home against Prosser, the Greyhound linksters tallied team totals of 509.
Unfortunately for the GHS golfers, their opponents thus far are shooting well under team tallies of 400.
Monday afternoon at Black Rock Creek Golf Course, Prosser got an 8-over-par 80 from Taylor Gant. With two other Mustangs shooting in the 90s, Prosser prevailed against the Greyhounds, 389-509.
Grandview's low scorer yesterday proved to be Sean Charvet. He toured the front nine with a 61, slicing six strokes off his back side score for a 55, giving him a 116 on the day.
Dylan Parker was next in for the Greyhounds. Like Charvet, he got around the opening nine with a 61, but couldn't muster anything better after the clubhouse turn, settling for another 61 and a 122 total.
Completing the Grandview team scoring were Adam Fleming (68-61 - 129) and Henry Pond (69-73 - 142).
The medalist Gant went 41-39 to best all competitors yesterday. Prosser also got individual rounds of 91 and 99 from C.J. Hawley and Deven Murray, respectively. Rounding out the Prosser team score was K.Y. Swift's 119.
Also on the Sunnyside/Grandview area golf course yesterday was Mabton's Josh Rodriguez, the lone member of the Viking golf team. The underclassman had front and back nine scores of 68-60.
The Grandview boys golf team is scheduled to compete at the Hermiston Invitational this coming Thursday.