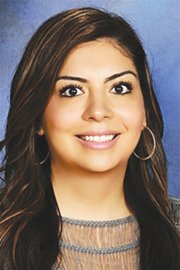 Cynthia Cisneros, a special education paraprofessional at Artz-Fox Elementary School in the Mabton School District, has been selected as the Educational Service District 105 Regional Classified School Employee of the Year for 2013.
Cisneros began working as a paraprofessional with the Grandview School District, serving in the resource classroom at McClure Elementary School from 2006 to 2009. She assisted students in reading and math instruction and served as a translator during parent-teacher conferences with Spanish-speaking parents.
She then went to work for Mabton's Artz-Fox Elementary School in August of 2009, initially working in a classroom of English language learners until transferring into the special education classroom in the fall of 2011.
She attended professional development sessions on providing language acquisition strategies for students and has shared the techniques she learned with other teachers at her school.
She also continues to conduct translations for parents during parent-teacher conferences and offers translations on Individualized Educational Program goals for parents of special education students.
When Cisneros was a student herself, she provided translations for her own parents during parent-teacher conferences.
"I can relate to many students at Artz-Fox Elementary and I understand where they come from," Cisneros wrote in her application materials for the award. "I want the best for my students, and want them to know I was in their shoes at one point in life, and understand that it isn't easy but it also isn't impossible.
"I try to make every day a special and educational day for them, so they can go out to be the best that they can be," she added.
In her application materials, Cisneros also noted that she decided to become a school employee because of her daughter, Jaylyn, who was born blind.
"My daughter was the one who really prepared me for my career," wrote Cisneros. "She has been my inspiration and motivation to continue on this path.
"She has given me the patience and strength that I need to keep moving forward, not only for her but for all those other students who need someone to teach them and advocate for them," Cisneros wrote.
In her nomination letter, Artz-Fox special education teacher Cindy Marquez wrote: "Cynthia is always seeking ways to improve her knowledge of education and how children learn. She maintains a loving and caring relationship with our students. They can count on her to help them when they struggle with math or reading and even with problems with friends."
Cisneros is a 2002 graduate of Grandview High School, earned her Associate of Arts degree from Yakima Valley Community College in 2012 and is currently pursuing a teaching certificate in special education from the online Western Governors University - Washington.
The Regional Classified School Employee of the Year award recognizes the excellent service that paraprofessionals, custodians, secretaries, cooks, payroll officers, bus drivers, and other classified staff provide to public schools.
Candidates are reviewed for their contributions in helping improve student achievement, their leadership and collaboration, and their overall outstanding work performance for their school community.
Cisneros will now serve as one of eight candidates from throughout the state - chosen through their respective regional ESDs - who will be considered to be named as the 2013 Washington State Classified School Employee of the Year. The statewide award will be announced by OSPI during a special reception in Olympia on April 19.
The Mabton School District will host a special staff celebration for Cisneros on Wednesday, March 20, at 12:30 p.m. in the Artz-Fox Learning Center.
ESD 105 superintendent Steve Myers will formally present Cisneros with her regional award during the Mabton School Board meeting on Monday, March 25.