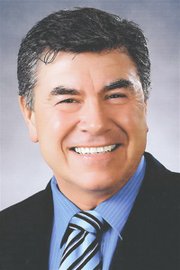 OLYMPIA - Set to take office in little more than a week, Bud Hover is in transition mode as he prepares to become the 22nd director of the Washington State Department of Agriculture.
Appointed by Gov. Jay Inslee last week, Hover will take over the post on April 1. He replaces Sunnyside area farmer Dan Newhouse.
Hover told the Daily Sun News he was actually interviewing with the governor's office for a regional post when he was offered the statewide ag directorship.
A hay farmer from Okanogan, Hover also has roots in the Yakima Valley. His parents both graduated from Zillah High School, and he has cousins who still farm in this area.
Hover got involved with public service after state officials turned off his irrigation water. He says the shut-off stemmed from an endangered fish species, prompting officials to force growers to turn off their irrigation water before they could replace an outdated headgate.
"Initially they gave us assurances we would have time to replace it," Hover says. "For two years I didn't have water. I had well over $100,000 in lost revenues."
He says he was "quite upset on how things transpired" and as a result successfully ran for county commissioner. From there he was appointed in 2007 by Gov. Chris Gregoire to the Upper Columbia River Salmon Recovery Board.
Now on the heels of a second gubernatorial appointment, Hover praised work done by Newhouse as a starting point for future refinements in the ag department. He says a key issue is that some staff members in the department are promoted to leadership positions without adequate management experience or training.
Building on Newhouse's efforts, Hover says he plans to continue the "culture shift in how things are done."
He says that means "...providing training for folks in leadership positions to think and act in a way that moves ag forward."
Hover says other priorities include international trade and addressing concerns about animal ID tracking.
As for the man he is replacing, Hover holds Newhouse in high regard.
"He's a great guy, a gentleman," Hover says of Newhouse. "He has offered to help in transition any way he can. I appreciate the work he has done and the way he has treated me and been willing to reach out."