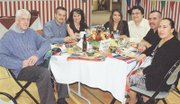 The first Pope selected from Latin America and the first Jesuit to be tabbed for the Catholic Church's top post.
No matter how you slice it, the election of Jorge Mario Bergoglio of Argentina as Pope last week is one for the record books.
His first official day on the job is today, Tuesday, following his inauguration.
Taking the name Pope Francis in focusing on the poor, the new pontiff earns high marks from locals at St. Joseph's Catholic Church in Sunnyside.
"It's good to have someone from this side (of the world)," says Father Tom Bunnell of St. Joseph's. Praising Pope Francis' simplicity, he says it's a refreshing change for a papacy that increasingly embraced pomp and regality.
Bunnell was struck, for example, by the Pope's desire to first greet a crowd of well-wishers waiting outside in the rain before he accepted congratulations from Cardinals following his election last week.
Bunnell, who is also a Jesuit, smiled as he recalled how church members congratulated him with a big sign on the election of a Jesuit to the papacy. "Thank you for that," he laughed. "But I'm not the pope."
Gilberto Correa of St. Joseph's says he likes the new pope's humility and thinks it will be a positive for the faithful here.
Israel Estrada is St. Joseph's executive assistant, and he has high hopes for the new Pope.
"I hope it can energize more people to join," he says.
Liliana Trujillo, also a member at St. Joseph's, says the new pontiff will not only be good for this country, but especially for those in Latin America.
"With everything that's happened in Mexico, I'm happy to have a Latin American pope," Trujillo said. "It will be good for us."