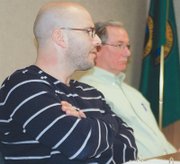 Constructed a little over two years ago, a propane rail spur has proved so popular the Port of Sunnyside now wants to expand it.
That's the result of action last night, Monday, by Port of Sunnyside commissioners in authorizing staff to seek funds for the project.
A resolution passed last night gives Port Executive Director Jay Hester the greenlight to apply for Yakima County's Supporting Investments in Economic Development (SIED) funds.
Hester says the port owns the rail spur, constructed in the fall of 2010 to serve Bleyhl's new propane storage site near Midvale Road. The Grandview-based company, which previously stored its propane tanks near downtown Sunnyside, rents the spur line from the port.
Hester says the rail spur for Bleyhl's new propane site is so busy that a second rail spur is needed.
Ideally, Hester says the hope is to have the second spur in place this summer so Bleyhl can ramp up for increased demand in the fall and winter.
Last night's resolution does not indicate how much the Port will seek in SIED monies, which are typically distributed as a grant/loan combination. Hester says the amount will be determined at a later date.