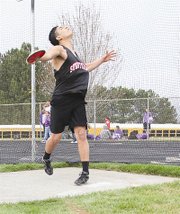 GRANDVIEW - The Sunnyside Grizzlies, behind senior Eduardo Salmeron's three-victory effort, as well as a three-win performance by junior Elijah Pena, walked away with the lion's share of the first-place finishes in the boys events at yesterday's 34th annual Grandview Coed Track & Field Invitational.
In the girls competitions, Zillah and Prosser led the 12-school field by snagging four wins apiece.
The host Greyhounds were shut out from claiming a top spot on the awards podium. The best Grandview could muster was a pair of second-place performances - the first by junior Andy Rodriguez in the boys pole vault and the other by junior Jamila Shafer in the girls discus.
The third team from this immediate area competing at Tuesday's non-scoring invite was Mabton. The Vikings' lone standout proved to be senior Adrian Gutierrez. He managed the third-best throw on the day in the boys javelin, and placed fifth in both the 110-meter hurdles and the discus.
On the girls side, Zillah got its four victories from junior Miranda Borrego in the 100-meter sprint, freshman Alexis Redfield in the 1,500-meter run, senior Beth Wise in the 100-meter hurdles and from its sprint medley relay team of Borrego, Abriah Isaac, Jessica Walker and Josie Wentz.
The Prosser girls' four wins were picked up by senior Mackenzie Davis in the pole vault, senior Sydney Mercer in the long jump and triple jump, and by the Lady Mustangs' 4x400 relay squad of Davis, Rachel Harle, Kyle Norell and Becky Wildman.
The girls track and field squads from Sunnyside, Trout Lake/Glenwood and Columbia-Burbank each came away with two wins on the day.
The SHS Lady Grizzlies who emerged victorious were junior Brittney Broersma in the 300-meter hurdles, and the 4x100 relay squad of Broersma, Vanessa Alvarez, Madison Marro and Leah Diddens.
Of the 16 boys events staged yesterday, Sunnyside won half of them.
The senior Salmeron was in on three of those Grizzly victories. He bested an 18-athlete field in the long jump and was the clear winner in the triple jump. Salmeron, too, was a member of the winning 4x100-meter relay squad.
The junior Pena notched his wins for Sunnyside in both the 110-meter and 300-meter hurdles races. Pena's third victory, like Salmeron's, also came as a member of the winning 4x100 relay squad.
The Sunnyside boys' three other victories were recorded by senior Eduardo Cuevas in the 800-meter run, who edged three runners by less than half a second; Eric Amaro in the javelin, who tossed the spear more than 25 feet further than his next closest competitor; and by the Grizzlies' sprint medley relay squad of Bernaldo Madrigal, Jesus Magallan, Audiel Sanchez and Ryan White.
The top five finishers from each of the events staged yesterday follow:
BOYS
100 meters - 1st-Jared Johnson (R'view) 11.49, 2nd-Thomas Niemeyer (Prosser) 11.65, 3rd-Jose Castilleja (G'view) 11.66, 4th-Bernaldo Madrigal (S'side) 11.67, 5th-Ryan White (S'side) 11.69
800 meters - 1st-Eduardo Cuevas (S'side) 2:10.06, 2nd-Zach Collins (Zillah) 2:10.31, 3rd-Alejandro Ochoa (Zillah) 2:10.31, 4th-Alex King (TL/Glenwood) 2:10.52, 5th-David Eisenhauer (R'side Christ.) 2:11.35
1500 meters - 1st-Zach Collins (Zillah) 4:31.16, 2nd-Bradley Buttars (Prosser) 4:31.35, 3rd-David Eisenhauer (R'side Christ.) 4:33.57, 4th-Fabian Cardenas (Umatilla) 4:36.98, 5th-Peyton Sperl (Prosser) 4:40.15
3000 meters - 1st-David Eisenhauer (R'side Christ.) 9:42.00, 2nd-Bradley Buttars (Prosser) 9:53.00, 3rd-Kody Johnson (Zillah) 10:14.00, 4th-Omar Cardoza (Granger) 10:16.00, 5th-Kasey Johnson (Zillah) 10:26.00
110-meter hurdles - 1st-Elijah Pena (S'side) 16.50, 2nd-Eric Amaro (S'side) 16.90, 3rd-Adam Soelberg (R'side Christ.) 17.25, 4th-Randy Roehl (Prosser) 19.90, 5th-Adrian Gutierrez (Mabton) 20.50
300-meter hurdles - 1st-Elijah Pena (S'side) 42.30, 2nd-Adam Soelberg (R'side Christ.) 43.45, 3rd-Alex King (TL/Glenwood) 44.38, 4th-Steven Razo (G'view) 44.55, 5th-Randy Roehl (Prosser) 45.84
4x100 relay - 1st-Sunnyside (B. Madrigal, E. Pena, E. Salmeron, R. White) 45.50, 2nd-Riverview 45.86, 3rd-Zillah 45.88, 4th-Grandview 45.92, 5th-Prosser 46.63
4x400 relay - 1st-Riverside Christian (D. Eisenhauer, A. Soelberg, M. Tranch, K. Gartrell) 3:38.40, 2nd-Zillah 3:47.25, 3rd-Sunnyside 3:50.65, 4th-Prosser 3:53.17, 5th-Grandview 3:57.23
Sprint medley relay - 1st-Sunnyside (B. Madrigal, J. Magallan, A. Sanchez, R. White) 1:41.33, 2nd-Riverside Christian 1:42.54, 3rd-Grandview 1:44.83, 4th-Zillah 1:45.23, 5th-Granger 1:45.38
Shot put - 1st-Spencer Combs (R'view) 43-2, 2nd-Reggie Chumley (Zillah) 42-10, 3rd-Jeremiah Atkins (Zillah) 37-4, 4th-Juan Peralta (S'side) 36-9.5, 5th-Xavier Cortez (S'side) 36-0
Discus - 1st-Ruben Perez (Zillah) 131-6, 2nd-Eric Amaro (S'side) 127-4, 3rd-Jose Sanchez (S'side) 123-4, 4th-Will Burgett (Prosser) 119-3, 5th-Adrian Gutierrez (Mabton) 119-2
Javelin - 1st-Eric Amaro (S'side) 177-5, 2nd-Kolton Cobb (Col.-Burbank) 152-4, 3rd-Adrian Gutierrez (Mabton) 144-5, 4th-Micah Tranch (R'side Christ.) 132-1, 5th-Will Burgett (Prosser) 130-3
High jump - 1st-Porter Romm (Col.-Burbank) 5-10, 2nd-Micah Tranch (R'side Christ.) 5-8, 3rd-Eduardo Salmeron (S'side) 5-8, 4th-Israel Suarez (Zillah) 5-4, 5th-Alex Soberanes (G'view) 5-0
Pole vault - 1st-Gregory Dechand (TL/Glenwood) 10-6, 2nd-Andy Rodriguez (G'view) 10-0, 3rd-Isaiah Sanders (Prosser) 9-6, 4th-Peyton Sperl 9Prosser) 9-6, 5th-Ricardo Perez (S'side) 9-0
Long jump - 1st-Eduardo Salmeron (S'side) 19-8, 2nd-Eric Amaro (S'side) 19-6.5, 3rd-Kirk Gartrell (R'side Christ.) 19-6, 4th-Ethan Hibbs (Prosser) 18-10, 5th-Austin George (G'view) 18-6.5
Triple jump - 1st-Eduardo Salmeron (S'side) 40-1, 2nd-Sergio Lugo (S'side) 39-6, 3rd-Dameon Garza (G'view) 36-4, 4th-Chance Simpson (R'view) 35-10, 5th-Henry Elliot (Prosser) 34-11
GIRLS
100 meters - 1st-Miranda Borrego (Zillah) 13.07, 2nd-Vanessa Alvarez (S'side) 13.52, 3rd-Ashleigh Fraser (Cle Elum) 13.57, 4th-Amie Zitterkob (Umatilla) 13.58, 5th-Kassie Prieto (G'view) 13.69
800 meters - 1st-Valerie Vogt (TL/Glenwood) 2:31.00, 2nd-Monica Villegas (Zillah) 2:34.00, 3rd-Holly Terrill (Cle Elum) 2:43.00, 4th-Tisha Owens (Cle Elum) 2:45.00, 5th-Andrea Contreras (Umatilla) 2:47.00
1500 meters - 1st-Alexis Redfield (Zillah) 5:25.99, 2nd-Caitlin Scott (TL/Glenwood) 5:27.81, 3rd-Mariana Perez (Prosser) 5:36.86, 4th-Berenice Chavez (Umatilla) 5:37.51, 5th-April Soelberg (R'side Christ.) 5:37.71
3000 meters - 1st-Valerie Vogt (TL/Glenwood) 11:18.00, 2nd-Alexis Redfield (Zillah) 11:27.00, 3rd-Berenice Chavez (Umatilla) 11:50.00, 4th-Vanessa Quiroz (S'side) 12:33.00, 5th-Hana VerMulm (Prosser) 12:37.00
110-meter hurdles - 1st-Beth Wise (Zillah) 16.74, 2nd-Brittney Broersma (S'side) 17.14, 3rd-Harley McBride (Col.-Burbank) 17.24, 4th-Beyyine Ozkan (TL/Glenwood) 17.76, 5th-Lindsay Yetter (Prosser) 18.40
300-meter hurdles - 1st-Brittney Broersma (S'side) 49.46, 2nd-Beth Wise (Zillah) 50.51, 3rd-April Soelberg (R'side Christ.) 52.11, 4th-Josie Robertson (R'view) 53.65, 5th-Lyndsay Oswalt (Granger) 54.32
4x100 relay - 1st-Sunnyside (V. Alvarez, B. Broersma, M. Marro, L. Diddens) 54.34, 2nd-Prosser 54.94, 3rd-Zillah 55.23, 4th-Grandview 55.85, 5th-Umatilla 55.95
4x400 relay - 1st-Prosser (R.Hharle, K. Norell, M. Davis, B. Wildman) 4:31.08, 2nd-Sunnyside 4:31.81, 3rd-Zillah 4:34.23, 4th-Grandview 4:39.68, 5th-Umatilla 4:42.03
Sprint medley relay - 1st-Zillah (M. Borrego, A. Isaac, J. Walker, J. Wentz) 2:02.74, 2nd-Prosser 2:07.60, 3rd-Columbia-Burbank 2:08.79, 4th-Granger 2:09.84, 5th-Grandview 2:11.93
Shot put - 1st-Vanessa Dorsey (Col.-Burbank) 29-9, 2nd-Chisty Kettel (Cle Elum) 29-2, 3rd-Kendall Platsman (S'side) 27-10, 4th-Sarah Roberts (R'side Christ.) 27-5, 5th-Mikaela Murillo (Prosser) 27-3
Discus - 1st-Sarah Roberts (R'side Christ.) 101-7, 2nd-Jamila Shafer (G'view) 94-6, 3rd-Jamie White (Prosser) 90-0, 4th-Sandra Moreno-Mendez (Umatilla) 79-8, 5th-Ashley Oswalt (S'side) 77-9
Javelin - 1st-K.C. Andrus (Cle Elum) 120-3, 2nd-Nicole Nobbs (R'side Christ.) 106-1, 3rd-Hailey Nunez (Prosser) 93-1, 4th-Sarah Forsythe (Col.-Burbank) 91-5, 5th-Beth Conley (R'view) 89-5
High jump - 1st-Harley McBride (Col.-burbank) 5-0, 2nd-Emily Seaman (Zillah) 5-0, 3rd-Ava Tolcacher (Prosser) 4-10, 4th-Lindsay Yetter (Prosser) 4-8, 5th-Josie Robertson (R'view) 4-6
Pole vault - 1st-Mackenzie Davis (Prosser) 7-6, 2nd-Geordan Skyles (S'side) 7-6, 3rd-Amy Underwood (TL-Glenwood) 7-0, 4th-Beyyine Ozkan (TK-Glenwood) 6-6, 5th-Becky Wildman (Prosser) 6-6
Long jump - 1st-Sydney Mercer (Prosser) 15-11, 2nd-Ashleigh Fraser (Cle Elum) 15-4.75, 3rd-Emily Seaman (Zillah) 14-9.5, 4th-Lindsey Dearmin (Cle Elum) 14-4, 5th-Nicole Nobbs (R'side Christ.) 13-10
Triple jump - 1st-Sydney Mercer (Prosser) 32-2, 2nd-Emily Seaman (Zillah) 31-2.5, 3rd-Mattisen Boyle (Prosser) 30-3.5, 4th-Geordan Skyles (S'side) 29-7.5, 5th-Abriah Isaac (Zillah) 29-4