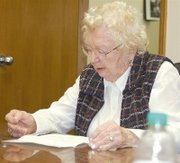 Dorothy Aiken was elected chair and Robert Sarmiento vice chair of the Sunnyside Parks and Recreation board at the group's first meeting of the year Wednesday afternoon.
The board also discussed the city swimming pool and the role that the Sunnyside Arts and Sports Association will be taking in the city's recreation programs.
Many of the decisions relating to the city pool have been waiting until a city manager is in place. Public Works Superintendent Shane Fisher told the board that a meeting later in the day might solve that problem. He also said that Acting City Manager Aaron Markham was leaning toward having city staff in charge of the pool.
Aiken said it was her intention to make sure that Red Cross water safety instructors are hired, regardless of who manages the pool. She also said a water safety instructor would make certain lifeguards could teach swimming lessons properly.
Board member Trish Combs explained the concept of the Sunnyside Arts and Sports Association, telling the group that former Interim City Manager Frank Sweet had suggested forming a non-profit to accomplish some of the long-term goals of the city, including the construction of a stadium.
She said that the association is currently not accepting any outside money at all, but would like support from the community in the form of volunteer time as well as people showing up at events to cheer on the children.
Combs said a soccer jamboree will be taking place this weekend, March 23-24, at Sunnyview Park. Combs also mentioned an upcoming golf tournament and a red carpet event that will feature more than 100 bands coming to Sunnyside April 13.
Sarmiento expressed some concern that the board had not been kept advised of the efforts of the association. Combs said that publicity for their events has been an ongoing problem. The board also has not met since last October, making communication with the non-profit group as a whole difficult.
Antonio Hidalgo also spoke at the meeting at the request of Combs. Hidalgo is not a board member but has volunteered along with Combs to act as the manager of the city's parks and recreation department. Hidalgo said the support from leaders in the city has been lacking, with very few showing up at events like the indoor soccer games.
He also said people in the city are suffering from charity fatigue, with organizations constantly asking for money. He didn't want money, just support and encouragement for the youth involved in the programs.
"We are doing this for Sunnyside's children," he said. "This is all for them. We want them to know we care."
The board agreed to meet the third Wednesday of every month at 4:30 p.m. at City Hall.