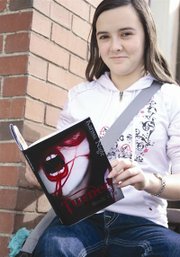 Reading and writing are the two pastimes Sunnyside High School sophomore Karissa Nagle enjoys most.
For the past two years, this 16-year-old has been delving into the world of writing fiction. She says as of late, along with the rest of the pop culture, Nagle has been interested in the subject of vampires.
She drew inspiration from the recently-developed craze from movies and books like Twilight and others who've followed in the footsteps of delving into the terrible and beautiful world of a vampire.
Turned, the Fang Trilogy is a published version of Nagle's passions and interests as of late. In her recently-published trilogy about vampires, Allona St. Cloud uses her 400 years of life experience to nurture and love newly-turned vampires.
Getting her book published wasn't difficult. After spending nearly six months writing the book, Nagle learned of a website called Lulu.com.
"It's where you can get your book published online," she said.
It's as simple as logging on, choosing a book size, color and cover, and poof, you've got a published book.
It may not be quite that simple, but after perfecting the story and checking for grammatical errors, the book can be easily ready to publish with Lulu.com.
Allona's job in the undead afterlife is to help newly turned fledglings, young vampires, adjust to the life of a vampire. Allona is proud to be noticed by the hierarchy of power of an archangel who appointed her to the nurturing role, and does her best to fulfill their wishes. But when one particular fledgling has an unnatural ability to glimpse other creatures' pasts and futures, things get serious, Nagle says.
"It is up to Allona to protect this fledgling with her life," Nagle said.
But how much time do they have? And who else is after this fledgling? As Allona seeks allies throughout the globe to fight an army, she faces many trials and tribulations that one will have to pick up this book from Lulu.com to learn more about.