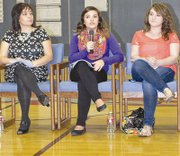 GRANDVIEW - A special assembly for girls attending Grandview Middle School was held last week.
The purpose of the assembly was to help young girls learn it is important to respect one's self to achieve your goals.
A panel of women who have attended college and who are attending college provided the youngsters with a few insights.
On the panel was Teresa Santoy, a graduate of Grandview High School, who earned a degree at the University of Washington. Santoy has worked for the Seahawks organization and now helps college-bound students through the College Success Foundation.
Also on the panel were six other Grandview High School graduates, who have reached for their career goals regardless of their backgrounds and any barriers that may have been in their way.
Grandview Middle School Assistant Principal Carol Bardwell said, "We want you to understand you can be anything you want to be."
She said many of the ladies on the panel set goals for themselves while in middle school and learned no goal is unattainable.
April Carillo is a current student at Yakima Valley Community College, studying to become a nurse.
She said she has had to work hard to achieve the goals she set for herself. She and the other panel members said it is important to surround yourself with people who are supportive.
Teri Hendrickson is attending college in Kirkland. She said, "Not all friends will be supportive, but it is important to find people in your life who are encouraging."
Santoy said each person has within their own power to be a "climate changer." She said, "Being confident in your decisions can lead the way for others."
The rest of the panel agreed with Hendrickson and Santoy, stating belief in one's self is the first step to becoming successful.
"Stand up for what you believe in...it is a way that you can show self-respect," said Rita Uribe, who is a data developer for the Grandview School District.
Lucy Prieto, a director of school services for the school district, said, "Each person can be their own cheerleader."
Petra Morales, who works for Northwest Community Action Center and serves Grandview Middle School as a case worker, told the girls attending last week's assembly that there are always obstacles to overcome when reaching for your goals.
"I started my family at a young age," she said, stating she did not allow obstacles to prevent her from graduating from college.
Healthy relationships and good role models are also important, according to members of the panel.
The panel also said individuals can learn by stepping out of their own comfort zone.
Each woman on the panel had an example of doing just that.
Uribe said becoming a coach helped her step out of her comfort zone. Through coaching she has learned more about what she can accomplish and she has seen the growth in young athletes.
She said one swimmer took it upon herself to lead the team in an unusual fashion. That swimmer developed a routine that inspired the other team members.
The middle school students were also advised to dress with a sense of self-respect.
Bardwell told them pointedly that dressing in a manner that exhibited cleavage and "too much skin" attracts the wrong kind of attention. "Trust me, boys and men look...yes, older men look, too," she said as the crowd made sounds of disgust.
"Each and every one of you have strengths and the goal of this assembly is to give you time to think about things," said Bardwell prior to a skit.
The skit showed the girls gathered for the assembly what a job interview with a potential employee who is poorly dressed and who acts inappropriately looks like. On the flip side was an interview with a potential employee who was poised and dressed professionally.