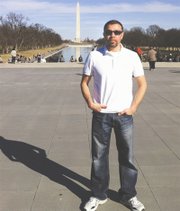 WASHINGTON D.C. - Learning about others' desires to make their communities a better place was what the National Association of Workforce Conference was all about.
South Central Workforce Council member and Sunnyside resident Francisco Guerrero says, at least that's what he took away from the event that was held in Washington D.C. earlier this month.
The South Central Workforce Council, which serves Kittitas, Yakima, Klickitat and Skamania counties in Washington state, is a non-profit, volunteer board of local leaders in business, labor, education and community service.
Among other duties, the council administers federal and state funds for education, training and employment.
The three-day conference in the nation's capital provided workforce council members with a myriad of workshops and seminars in how to become a more effective leader.
"As a newer board member I took the workshop titled 'how to become a more effective board member'," said Guerrero, who manages HAPO Community Credit Union in Sunnyside.
The team of local council members also learned how to ask the right questions and use resources more efficiently in tough economic times.
The local council's focus is to help job seekers and employers with career assessment, job matching, skill building and job placements.
Guerrero says council members also listened in on a seminar that provided insight on how to start and maintain a summer employment program for at-risk youths.
Above all, Guerrero says he's more excited than ever to try and implement what he's learned into the community he loves.
"If you really want something to happen, you've got to get involved," he said.
More like this story