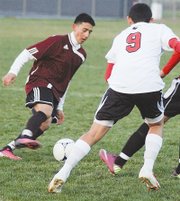 For 76 minutes Sunnyside keeper Max Ramos' job was to prevent the visiting Greyhound soccer team from scoring a goal.
Two minutes later, he ended up scoring the only goal of the match to spark the 3A Grizzlies to a 1-0 win over 2A Grandview last night, Thursday.
"As a keeper he's always been one of those guys teams don't see as a physical forward presence," Sunnyside Coach Dave Guevara said of the last-minute switch involving Ramos. "But he's a State wrestler with a lot of upper body strength."
Prior to the 78th minute, it was a scoreless tie as the two Lower Valley rivals dug in on defense.
"As in the first encounter both teams settled in for the long haul," Grandview Coach Anne Holden said, referencing a contest just last week in Grandview when the two teams were tied through regulation and two overtime periods. That contest ended with Grandview winning on penalty kicks.
It looked like last night's non-league match was headed for overtime as well, before Ramos and company booted home the late score to avenge last week's loss.
The decisive score was set up when Grandview lost possession of the ball at midfield. Sunnyside's Cristian Chavez gathered it in and directed the ball to Ramos, who drilled it into the back of Grandview's net from 20 yards out.
"It was very competitive both ways," said Guevara, who sees the Greyhounds as a contender for the CWAC crown.
He praised Grandview keeper Elmer Campuzano, especially for his play in the second half when Sunnyside had most of its reported 15 shots on goal.
"We had several opportunities to get in, but he played well," Guevara said.
Grandview's records show that it had 10 shots on goal, and Holden gave Ramos kudos for his play in the net.
"Winger Gorge Lara cracked a shot bound for the back of the net only to be stopped by a brilliant save from Sunnyside's keeper, Max Ramos," she said.
Holden also praised a play by Ramos in denying Greyhound Ruben Clara a seemingly certain goal when the Sunnyside keeper deflected a looping header over the crossbar.
Sunnyside (3-3) and Grandview (3-1) return to the pitch tomorrow, Saturday. Grandview will host Toppenish in a clash of CWAC contenders, while Sunnyside resumes league play at Eastmont.