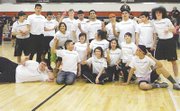 A dozen Sunnyside High School boys have been extremely busy preparing for the annual Mr. SHS Pageant.
The group isn't just vying for the title of king, most poised and best talented, but they are also fighting for the lives of many youngsters who are born premature.
Each year the group also sponsors a child and this year's miracle child is Elijah Orosco.
The amazing dozen have also been raising money for the past few weeks via several fundraisers in order to help YouthWorks purchase incubators for premature babies.
"We also went up to Yakima to the NICU to personally see premature babies in the incubators," student organizer Stefani Anciso said. "It was really touching for (us) to experience."
Fundraising efforts by the Mr. SHS candidates have included 'dash for cash' during halftime of basketball games, a restaurant takeover at Bon Vino's, a Mr. SHS dance and a Mr. SHS vs. staff basketball game. Sponsor letters have also played a part in helping these king-hopefuls raise money for the cause.
Putting the event together are student leaders, including head coordinator Jessica Bonilla and co-coordinators Stefani Anciso, Elizabeth Bobadilla, Victoria Garcia, Kenya Estrada and Judy Espindola.
Mr. SHS candidates include Osmar Alvarez, Jerry Cardenas, Nick Comstock, Martin Garcia, Jose Garcia, Ramon Hernandez, Roger Lozano, Sergio Lugo, Nathan Meyer, Gavin O'Leary, Sergio Ramirez and Samuel Romero.
The annual Mr. SHS Pageant is set for this Saturday, March 23, at the Sunnyside High School auditorium at 7 p.m. Admission to the event is $5 and additional donations to the YouthWorks cause will be accepted.