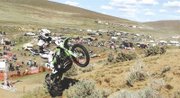 The only professional motorcycle hill climb in Washington state, Northwest Nitro Nationals, opened the 2012 hill climb season last spring and is set to do the same in the coming weeks.
Last year's event drew 492 competitors and 4,100 spectators from across the west.
The premise of the event is motorbike riders racing to the top of a steep hill in record speeds.
The hill, located near the intersection of Hwy. 24 and Hwy. 241, 30 miles east of Yakima and 15 miles north of Sunnyside, has a lot of history with racing enthusiasts. First used in 1962, hill-climb events were hosted at the nearby Sunnyside hill until 1999.
The hill offers dozens of different competitive routes, all averaging around 800 feet in height, which makes it the longest hill on the North American Hillclimb Association circuit.
The group is planning its spring debut again this year, Friday through Sunday, April 26-28. The three-day event beginning at 9 a.m. each day is slated for amateur and professional riders. Friday will feature amateurs, and Saturday and Sunday will bring out the pros that have been said to reach the top of the 800-foot hill in only 15 seconds.
This year's event will also feature a freestyle competition and camping for attendees during the weekend event.
Admission is $15 for adults, or $25 for a weekend pass. Admission for kids ages 6 to 12, seniors ages 65 and older and retired or active duty military members is $10, with the weekend pass costing $20. Kids ages 5 and under will be admitted for free.
Camping is $20 per vehicle for the entire weekend.
For more information, contact Jeff Snipes at 208-819-7508 or visit the event website at http://www.nwnitronationals.com.