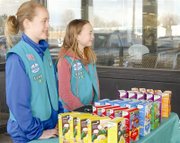 It's the season for Girl Scout cookies in eastern Washington.
Thousands of Girl Scouts will be in front of grocery stores until early April, practicing selling strategies and learning practical skills, including handling money and working with the general public.
Girl Scouts in this area will be selling the "Super Six" cookies this year: Thin Mints, Samoas, Trefoils, Do-si-dos, Tagalongs and Savannah Smiles. Cookies are $4 per box in Washington state.
Local troops will be selling cookies at the Sunnyside Safeway on Thursday, March 28, from 4 to 5:30 p.m. and Saturday, March 30, from 11 a.m. to 7 p.m. A local troop will be at the Grandview Safeway on Saturday, March 30, from 1 to 5 p.m.
Troops will also be selling cookies at the Sunnyside Wal-Mart on Thursday, March 28, from 5:30 to 7 p.m., Friday, March 29, from 4 to 7 p.m., Saturday, March 30, from 1 to 7 pm., Friday, April 5, from 3 to 7 p.m. and Saturday, April 6, from 1 to 3 p.m.
To find other locations and updated dates and times of local cookie sales, visit http://www.gscookiebiz.com and enter a zip code.
Through the cookie program, girls earn money for community service and leadership projects, attend summer day and resident camps, buy items and supplies in the Girl Scout store, travel to destinations near and far and provide events for girls in their community.
The program is the largest girl-led business in the world. Girls in the program learn about goal setting, decision making, money management, people skills and business ethics.
The five skills matter because when a girl has learned these skills, she will be poised for career success. In a Girl Scout, future employers will find a girl who can set goals and meet deadlines, works well with others, understands customers, can influence others and is honest, trustworthy and reliable.
Customers can help Girl Scouts develop these skills by greeting the scouts, treating them as business people and not just cute girls, asking about the cookie inventory, asking what the money will be used for and asking about the Girl Scout program. Customers can also help by giving feedback at the end of the transaction to let the Girl Scouts know how they did.