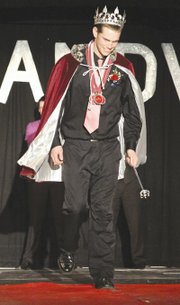 GRANDVIEW - Perhaps winning the audience and judges over with a moving speech about patriotism, Mr. Grandview contestant Mitchel Wagner took home the king's crown this past Saturday night.
Of the eight contestants vying for the Mr. Grandview crown, Wagner was also named Mr. Congeniality on the night, and earned accolades for the best interview answer and the best fitness routine. During the talent portion of the competition, the newly crowned 2013-14 Mr. Grandview gave a moving speech about what it means to be an American soldier.
But taking the cake for best talent was co-finalist Arthur Alcazar. This Mr. Grandview contestant took the stage in a colorful mask while dancing and twirling ribbons. Captivating the audience with stares and laughter, Alcazar also captured the judges' attention long enough to earn him the best talent award on the night. Also earning co-finalist honors was contestant Joesiah Saunders. This GHS wrestler performed takedowns as part of his talent for the evening.
The night opened with a group fitness routine, showing the judges the physical shape the contestants are in. Then the Grandview teens hit the runway in casual wear, where they also chose music to walk to that best described them. Then it was time for the talent portion of the night.
Other talent acts included an archery display, hurdle jumping and singing during the eventful evening. During several breaks from competition the Grandview High School drama club performed excerpts from their upcoming "West Side Story" production. The annual Mr. Grandview Pageant is a fundraiser for the drama club at Grandview High School.