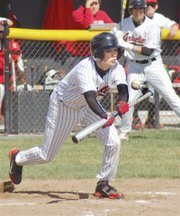 Sunnyside made a game of it for five innings before falling 10-3 to visiting Eastmont in the first game of a CBBN doubleheader last Friday.
Sunnyside's only hit of game one came in the first inning, when Damon Hurst's two-out single sparked a two-run rally aided by two walks and two hit batters yielded by Wildcat pitching.
Eastmont scored once in the second and third innings - pushing runners across in both frames with clutch, two-out hits - to knot game at 2-2.
The guests, who for the game pounded out eight hits, then pulled away from there. The big frame came in the sixth with a three-run outburst to put the game away.
Sunnyside's third run came in the home half of the fifth courtesy of two Eastmont fielding errors and a fielder's choice.
Joel Ortega pitched game one for the Grizzlies.
Eastmont took control early in Friday's 13-1 game two win. The Wildcats scored six runs in the first inning without hitting the ball out of the infield. The Wildcats benefitted from four Sunnyside fielding errors in the opening frame.
Pitching control issues in the sixth inning - to the tune of five walks - helped Eastmont to a five-run rally to ice the win.
The Wildcats mustered just five hits in the nightcap.
Sam Romero, Sam Pike and Mason Kupp shared time on the pitching mound for Sunnyside in game two.
The lone Grizzly run in the second game came in the home-half of the sixth. Kupp came through with a single, followed by a clutch double off Romero's bat to knock in the run.
The game was called after six innings because of the 10-run mercy rule.
"Our pitching started out very well....but errors put us in some bad situations," said Sunnyside Coach Terry Shines, who noted two starters in his line-up were ill on Friday. "We just have to hit the ball a little better."
Sunnyside (0-3, 1-4) travels to Riverview tomorrow, Tuesday.