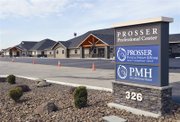 PROSSER - A new medical clinic and pharmacy will provide Lower Valley residents seeking medical services with better access to care.
That's due to a collaboration between PMH Medical Center, Kadlec Regional Medical Center and Adventist Health.
"Kadlec is very excited to be collaborating with Adventist Health and PMH Medical Center on this project," said Rand Wortman of Kadlec Health System.
He said, "We've taken a cooperative approach in the development of this clinic; Kadlec will employ the physicians, Adventist Health will operate the clinic and provide most mid-level practitioners and PMH Medical Center will maintain the on-site laboratory services."
Fred Lamb of PMH Medical Center said, "It's about providing quality services to residents, keeping them closer to home."
Wortman said, "Together we'll bring patients a wide spectrum of health services, including family medicine, pediatrics, obstetrics and gynecology, as well as access to many of Kadlec's specialty physicians."
Lamb said the clinic will house three obstetricians, two of them female, and gynecologists in a portion of the project planned for women's health services.
"PMH Health Center will collaborate with the clinic like it does with Yakima Valley Farmworkers. We have been contracted for laboratory and diagnostic imaging services," he said.
Wortman said, "In addition, the clinic will offer a new access point for purchasing prescriptions at the Adventist Health Pharmacy. We see this type of collaborative effort as an opportunity to serve the Lower Valley in a unique way; where we're all working together for the health of the community."
Lamb said, "Kadlec is reaching out as a regional hospital, providing regional care."
He said the physicians at the clinic will be Kadlec employees and Adventist Health is providing mid-level providers like nurse practitioners and physicians assistants, as well as admitting staff and nurses.
"The project has been very fluid," said Lamb, noting the developer has been working on the clinic, which is being constructed on Chardonnay Boulevard in Prosser, for approximately 20 months.
It is anticipated to open in June or July of this year.