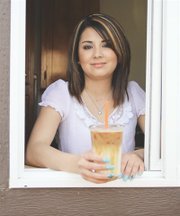 MABTON - After a vehicle accident that landed 20-year-old Alexia Verduzco at Harborview Medical Center in Seattle for nearly a week, she decided to make a lifestyle change.
This Grandview native has decided to become a contributor to her future, becoming an entrepreneur and opening her very own business.
Infiernos Café has been open since last month in Mabton and is owned and operated by the young mother. Verduzco says the drive-thru business treats customers to espresso, blended coffee and Red Bull soda drinks. She also serves breakfast sandwiches, muffins, cookies and chips. But hopefully soon, Verduzco says she'd like to open the food menu to meet the requests of her Mabton-area customers.
The business is open from 6 a.m. to 6 p.m. Monday through Friday. Saturdays the shop is open from 8 a.m. to 6 p.m.
Verduzco isn't new to the coffee industry or to customer service, however. She says before opening the shop in Mabton last month she was working for an area Starbucks company. Before that, she had experience in fast food management and retail.
This young entrepreneur says Mabton is one of the best places to own a business.
"People in the town of Mabton are very friendly," she said. "I've always wanted to do something like this."
Verduzco's favorite part of her work day is interacting with customers. Being her own boss is just icing on the cake.
"I can't get fired," she said.