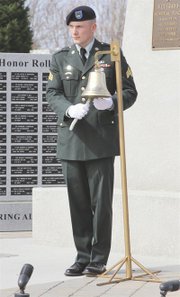 For those who have served in the U.S. armed forces it is tradition to receive full military honors at a funeral service.
However, not all men and women choose to have a funeral service. There are others who for one reason or another did not receive full military honors.
The Veterans of Foreign Wars and the National Guard in an effort to ensure all who have stood up to fight for their nation receive this tribute.
Yesterday (Monday) a special program was held at Jerry Terry Veterans Plaza for just such a service.
Present for the event were members of the AmVets, American Legion, VFW and National Guard. Sunnyside Mayor Jim Restucci, Interim City Manager John Darrington and other dignitaries were also present for the ceremony during which more than 40 names were read.
The names of those honored yesterday include Loe Heintz, Benjamin N. Zacher, Howard Lee Brooks, Dorain Leion Dexter, Edelmiro T. Garza Sr., Donald E. Miller, Harlan Dwayne Sandifer, Terry Moore Burns, Octavio O. Rodriguez, Merle Douglas Stout, Cyril Arden Elder, Bobby Joe Fletcher, Jose Perez Gonzalez, Joseph Strunk, George Eugene Dosch, Darrell Eugene Smith, Charla N. Elkins, Elijah Newlan Gallaway Jr., Jack R. White, Darrell H. Nelson, Kenneth O. Tisdall, Jack Dean Muntz, Adriaan Den Hoed, Robert Eugene Graham, Donald Henry Goodhue, Roland Henne, Carl Eugene McDonald, Ralph Ives Clark, Lawrence Robert Hawkins, Fred Arthur Tull, Robert Dale Stickley, Jim Pat Binion, Dennis Ross Davis, Dave Leo Stark, Victor Leroy O'Niel, Albert Harold Whiteside, Edward Louis Proebsting, Dewitt Talmage Riggins, Gary Ray Sanders, Terry Joseph Slate and John Rowland.
VFW Chaplain Joe Gordon and Commander Bill Ingram recited the names following a benediction delivered by Gordon.
When the duo completed the reading, Rowland's brother, Dave, was presented the flag in tribute to his deceased sibling who did not have funeral services. The flag was presented to him as the various anthems of the U.S. military branches were played on the bugle and drums.
It was a solemn occasion during which the men and women who bravely served their country could be properly honored.
"When the call of our country sounded, our comrades responded," Ingram said in a tribute to the men and women who have died.
Services much like the one held yesterday are held on a quarterly basis as a show of respect for those who chose to serve in any branch of the U.S. military and have since died.