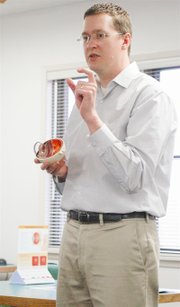 Glaucoma is the top cause of blindness worldwide," Dr. Michael Stapleton told residents at Sun Terrace Assisted Living & Retirement Community in Sunnyside last week.
"It's hard to detect. There are no early symptoms."
He said the lack of good medical availability in other countries also means that many people who get glaucoma never get it treated. By the time help is available, the disease is already too late to control.
Glaucoma is the build-up of pressure in the eye. Because blood is not transparent, the eye has its own fluid that it produces to deliver nutrients to its cells.
In normal eyes, the fluid leaves the eye when it has done its job. In eyes with glaucoma, the fluid does not drain or does not drain quickly enough to keep up with production. This causes pressure in the eye, which is unnoticeable at first but gradually leads to tunnel vision and eventual blindness.
Stapleton said glaucoma has multiple causes, from blocked drainage to increased fluid production, and lots of risk factors. In addition, sometimes people can have high pressure in their eyes and not have glaucoma.
He told the group of residents that there are no perfect tests for glaucoma, but there are many that can help diagnose the problem.
Methods include a test in which the patient indicates when a light is seen in the patient's peripheral vision and another test in which the eye is dilated and the doctor looks at the back of the eye to check the optic nerve's cup to disc ratio.
Stapleton said there is no cure for glaucoma, but it can be controlled.
"Basically, we want your eyes to outlast you," he said. He said 10 percent of people who are diagnosed with glaucoma go blind in both eyes, 27 percent go blind in one eye.
Treatment depends on the severity of the glaucoma. For most people, drops succeed. Some drops slow the fluid production in the eyes while others improve the outflow.
Lasers are used to cause low grade inflammation in the eyes that relieves the pressure for about five years. Stapleton said the procedure can be repeated, but loses effectiveness each time.
Surgery is also a possibility, with cataract surgery often resulting in lower eye pressure.
A last resort is to create a filtering bleb, basically a blister on the white part of the eye for fluid to escape into. The problem with that solution is that it makes the eye more fragile.
For people who have already lost their sight, relieving the pain caused by glaucoma becomes the primary concern. Some of the methods of pain relief are extreme, including the removal of the eyes.
He reassured residents that forgetting to take their drops once in awhile doesn't mean they will go blind right away.
"Fortunately glaucoma is a long process," he said. "So there is time to work on it."