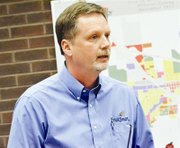 GRANDVIEW - FruitSmart in Grandview is growing beyond the expectations of its owners.
That's according to company President and CEO Terry Chambers, who last night explained the need for a change in its industrial wastewater discharge contract.
The Grandview City Council approved the change after hearing Chambers' presentation.
He said the company purchased the former Safeway processing plant in 2010 and made numerous upgrades to the facility for processing juice concentrates and apple cider products.
When the company opened the plant in August 2010, it began producing 3 million gallons of cider in Grandview. That cider product was produced as the result of Lighthouse Foods seeking a new market.
The operation, said Chambers, was supposed to be seasonal. However, the company realized it needed to operate year around.
This year there has been added growth and the Grandview plant has reduced its concentrate production to make way for more juice blend and cider products.
"We have 65 full-time employees," said Chambers. He said the company expects to hire additional personnel this year and believes there will be more than 80 employees by the end of the year.
"A new press will be online in July," said Chambers, stating the company has a basic concept of excellence and is anticipating its added growth.
Grandview City Administrator Cus Arteaga said the city has partnered with the company, working to help the expansion process move forward smoothly.
"Because FruitSmart has grown so much we need to make sure it's not violating its loads," he told the council, explaining the current industrial wastewater discharge contract could be compromised without changes.
Arteaga said the company has been diligent about notifying the city when changes are taking place at the plant.
"It's been a true partnership," he said.
With the change to the discharge contract, FruitSmart is allocated to a maximum of just more than 3,300 pounds of biosolid discharge on an daily basis. The old agreement allowed the company to discharge 1,000 pounds of biosolids per day on an annual basis.
The Grandview City Council approved the new contract by a 5-0 vote, which allows just more than 1.2 million pounds of biosolids to be discharged yearly.