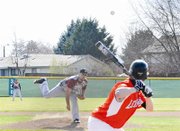 GRANDVIEW - The Grandview nine started yesterday's baseball game sluggish, giving Zillah an early 2-0 lead in the top of the third inning.
Grandview, on its way to an 11-7 win over the Leopards, recovered in the bottom of that inning, however.
Greyhound Kory Kollmar led off with a hit. He managed to steal second base before Chet Bardwell got aboard, advancing Kollmar to third base. Teammate Edgar Delgadillo hit a double. That gave Grandview some of the momentum it needed to plate three runs in the inning.
Delgadillo yesterday was responsible for four RBIs on three hits.
Kollmar, Martin Sanchez and Erik Sauve each connected with the ball for a base hit two times. Sanchez had two RBIs, while Kollmar and Sauve connected for one RBI apiece.
Grandview (2-2, 3-3) had a total of 12 hits in the non-league game.
In the sixth inning, Grandview's bats were especially on fire, as the 'Hounds scored seven runs.
The big blow in the sixth frame was a two-run double blasted over the right fielder's head by Delgadillo.
On the hill, Swearingen took to the mound for the first four innings. He was relieved two-thirds of the way through the fifth by Martin Sanchez. They combined for four strikeouts and five walks.
GHS Coach Matt McKinstry said Swearingen did a good job keeping Zillah's batters off balance. "Unfortunately, three errors were a source of four of the five runs he allowed."
Sauve served as catcher and threw out two runners, an attempted steal and another trying to advance to third base.
"We did a much better job late in the game of being aggressive at the plate...we will continue to work in practice to eliminate costly errors," said McKinstry, anticipating this coming Saturday's doubleheader at home against West Valley.