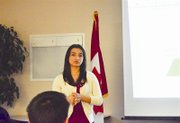 Sunnyside High School Assistant Principal Dave Martinez and leadership class student Stefani Anciso Wednesday morning talked to the Sunnyside Daybreak Rotary Club about improvements made at the high school.
Martinez stating he is dumbfounded by the changes that have been made. He said, "My knees shake."
He said he looks back to the graduation rates before the changes were implemented at the high school and realizes "...we didn't know what we didn't know."
The graduation rates sat at just 46 percent in 2007. As of 2012, that rate improved to 78.4 percent.
"We still have a long way to go," Martinez said, noting the high school staff and students are committed to bringing that number even higher.
"It's a team effort," he said, noting staff members and students have adjusted their thinking.
They have focused on attendance, character and grades to improve graduation rates at Sunnyside High School.
The students, said Martinez, believe the teachers care more. The teachers, he said, believe the students care more.
"They always cared," he noted, stating it was adjusting the level of communication between staff and students that helped build a system of success.
Martinez said many residents see the changes that have occurred to the high school building.
"You can make it pretty on the outside, but it's the continued work on the inside that gets things accomplished," said Martinez.
He said Sunnyside's graduation rates are currently trending with national graduation rates, but the students and staff are dedicated to improving those numbers.
Addressing attendance numbers has been part of the focus. To improve attendance numbers the school implemented a policy that restricts the campus. The attendance rate must be at 94 percent if students wish to leave campus for lunch.
Grizzly Time has also helped improve grades at the high school. Martinez told the Rotarians that students not achieving a 76 percent grade or better in any given class must attend Grizzly Time to improve their grades.
The extra effort is paying off, said Martinez.
Anciso spoke to how the school is helping eighth grade students transition to high school.
She said leadership students have been serving as mentors to students at the middle schools. They address concerns, talk to the younger students about grades and participate in activities with the middle school students.
Anciso said the middle school students have someone to serve as an example through the newly implemented program.