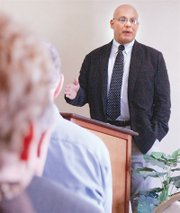 Sunnyside Transformation Yakima Valley held an informational meeting yesterday afternoon at the Grapevine Inn in Sunnyside to spread the word about its new initiatives and answer any questions the public might have about the organization's efforts.
Roberto Matus, CEO of the organization, spoke about how over the last five years the group has slowly pulled together to make a difference in the community.
"It did not happen overnight," he said.
He told the assembled guests that the Lower Valley is slowly beginning to realize that there is something going on with Sunnyside Transformation Yakima Valley.
"We knew the challenges," he said. "We have had to shift attitudes."
He said many people expect outside assistance instead of helping themselves. He said that the community has devalued its own work and spends beyond its means.
"For five years we have not relied on government dollars," he said. The organization does not accept grants or government money to accomplish its goals, Matus said.
The current goals include staging the Sunnyside Pepperfest, which will be held on the Van de Graff property near the intersection of Lincoln Avenue and Yakima Valley Highway this year. Matus also said the Sunnyside Farmers Market will relocate to the same spot.
In addition, the group plans veggie patches for people living in high density housing to grow their own food. Another initiative will allow juveniles to fulfill court-ordered community service by working in a veggie patch.
This year's goal for the annual job fair put on at the high school by the organization is 100 jobs for 100 youth. Matus spoke of the importance of working for something.
"We don't give things to people for free," he said. "Because then they lose interest in it and just wait for the next free item."
The organization also has prepared a 13-week course that will help aspiring business-owners to form their own business plans and apply for financial help to get started.
"We want to pull people out of poverty," Matus said. "It will reduce crime."
Along with Matus were a panel of other people who have worked with Sunnyside Transformation Yakima Valley, including Heritage University professor Len Black, who talked about mentoring by his business students.
Chris Smeenk, who works with the Loving Sunnyside Initiative, told the group that 29 houses have been painted in the last three years. The next action day is April 13, and volunteers will meet at Sunnyside Christian High School before dispersing to work on a variety of homes.
Matus urged all present to share information about Sunnyside Transformation Yakima Valley with other people and spread the word about volunteer opportunities.