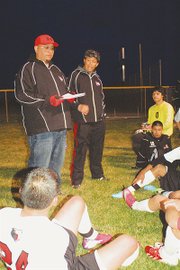 This is our home, protect it. Show the Yakima schools that we belong in this league. Finish!" that was the halftime exhortation by coaches Dave Guevara and Sergio Licona to Sunnyside's varsity soccer team last night.
The Grizzlies were nursing a 1-0 lead at the time, and made it hold up in knocking off visiting Eisenhower Tuesday night.
"It was a physical contest," Guevara said after the match. "There was no give up by either side until the final whistle."
Sunnyside scored the only goal in the CBBN league tilt in the 21st minute when Abrahan Garcia found the back of the net off an assist from Cristian De La Cruz.
Guevara says the decisive score came down to a drill the Grizzlies have run repeatedly in practice.
"We practice a lot on crossing the ball over to the other side if the keeper is favoring one side (of the net)," he said. "It was just a matter of executing our drills."
Both squads had several opportunities at the net, as Sunnyside recorded nine shots on goal and Ike had eight.
"They are a very aggressive team," Guevara said, noting the Cadets at one point brought their keeper forward and left an empty net in a failed attempt to find the equalizer.
Sunnyside's Max Ramos, with help from the Grizzly back line, recorded six saves. "He had several great saves for us," said Guevara.
With the league win, Sunnyside (2-1, 4-4) remains undefeated at home.
"We just need to keep our performance level high and execute on the road," Guevara said.
Sunnyside will hit the road tomorrow (Thursday) for a non-league match at Pasco.