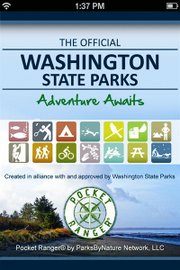 Why didn't they think of this sooner?
That was the first question in my mind when earlier this month the Washington State Parks and Recreation Commission launched a free app for the State Park system.
Free for both Android and Apple mobile devices, the app's content runs the gamut from park maps and directions to advanced GPS systems that allow users to record trails once they're in a park and enjoy Geo-Challenge activities.
It's a great idea, and Washington State Parks has partnered with an experienced firm, New York-based ParksByNature Network, to carry it out. In partnering with states around the country, ParksByNature has created apps for more than 20 park systems.
The app, called the Pocket Ranger, provides users with access to more than 100 state parks in Washington, as well as information on park campgrounds and amenities.
The Parks and Recreation Commission is touting the app as part of its centennial celebration. Washington's state parks system was launched on March 19, 1913.
The commission emphasizes that no state funds were used to develop the new app, as ParksByNature locates sponsors to underwrite development of the app for the state park systems.
And that's where there's a rub with this app, as "underwrite" is basically another word for advertise. There are ads that run on the Pocket Ranger, but if you want a free state parks app that is apparently the price to pay.
And, like anything new, Washington's Pocket Ranger app will likely need some updating as some of the parks are lacking information.
Still, it's a good start.
The park system's pro-active - and cost effective - approach should be commended as it celebrates its first 100 years here in the 21st century.
Android users give the state park app a 2.7 rating out of five stars, while over on iTunes, Apple users rate it with a 3.0 mark.
Go to www.parks.wa.gov to check it out for yourself.