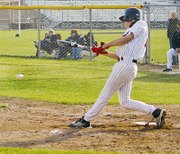 Sunnyside had more base hits but couldn't translate that on the scoreboard in a 6-2 loss yesterday, Thursday, to 1A Naches.
The 3A Grizzlies collected eight hits to just five for the visiting Rangers, but it was Naches with the win.
"We need to basically be able to handle the pressure of putting the ball in play," Coach Terry Shines said of the Grizzlies' tendency to leave runners on base.
After Naches nicked Sunnyside starter Joel Ortega for three runs in the first two innings, the Grizzlies made it a 3-1 game in the home-half of the third frame. The run scored when Miguel Mendez, Tim Martinez and Trey Serl smacked back-to-back-to-back base hits.
Things stayed close until the top of the sixth, when Naches pushed across three unearned runs to basically put the game away. The Rangers benefitted from a pair of walks issued by Sunnyside pitching, then a pair of Grizzly fielding errors.
Sunnyside tried to answer in the bottom of the sixth, but a single run brought home on a fielder's choice was too little, too late.
Sunnyside (2-6) was paced at the plate yesterday by Mendez with two hits, along with Serl and Sam Romero, who each slapped a double for the Grizzly nine.
Ortega, who left the mound in the fifth inning, and the reliever Romero combined to strike out four Ranger batters in seven innings of work.
The Grizzlies now enjoy a week away from competition during spring break.
Shines says his club will make use of the extra time to hone its skills.
"We'll be working on situational hitting and our assignments on defense, like handling bunt coverage," Shines said.