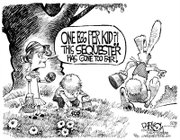 I love family.
Whether it's my family or someone else's family, I just love them.
After getting a little more serious with my significant other over the past year, I've come to see that family is also important to him.
What a win.
Kyle's family is like mine in a way. They take any chance they can to make an ordinary day, an occasion. They make an overlooked holiday, an event. This year I get to accompany the family over the mountains to the annual Easter egg hunt.
What joy I feel being invited to this event.
Though I most likely won't be participating in the hunt itself, I will be able to help hide the eggs and take part in the camaraderie that is inevitable.
At Kyle's family events, you can always expect certain treats to be brought and certain beverages to be present. But most of all, you can expect to feel the love, through and through. I'm so glad I get to be part of the event this year.
But the oh, so sweet icing on my Easter cupcake this year is that I get to present four of my favorite children with Easter baskets. Each basket is personalized to their individual personalities, likes and hobbies.
I can't wait to see their faces light up, I spent weeks and weeks compiling the goodies inside the baskets, and I know they will love their treats.
I know I will enjoy their happy, little faces.
And that, my friends, is something I can truly be thankful for.
I wish you and yours a happy and safe Easter holiday!