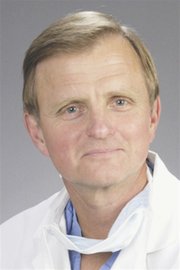 After one "happy buck" upon another to start its meeting, the Sunnyside Daybreak Rotary's featured speaker this morning gave the club's membership some sobering news.
Visiting from the University of Washington this morning, Wednesday, was Dr. Paul Lange, one of the nation's leading researchers on prostate cancer.
The disease impacts 1-in-6 men and is the number-two cancer killer among men.
Lange's book -
Prostate Cancer for Dummies
- has sold more than 30,000 copies and his work in the UW's urology department has made it one of the top 5 in garnering research funding.
Lange helped develop the advent of the PSA blood test, which measures an enzyme in the blood stream, that has helped doctors and their patients detect prostate cancer earlier without the ineffective and invasive treatments prevalent prior to that.
He says there has been a learning curve, noting over the past decade a PSA level of 1 has gone from being harmless to now indicating the possibility of cancer.
Lange said 10 or 12 years ago at the age of 40 his PSA level was 1.1. That was considered a healthy level at the time, but today a level of 1.0 prompts closer consideration. It turned out that Lange did indeed have prostate cancer and he has since recovered.
The danger of prostate cancer, he adds, is that it can get into the bones and create a fatal disease that is painful.
The problem with PSA tests, he continued, is that doctors were too aggressive and patients with a PSA level of 1 or above were treated for cancer.
However, he says the harm outweighed the benefits for many patients, who suffered long-term complications such as incontinence and impotence.
The upshot, he adds, is that many prostate cancers - more than 40 percent - are what he calls "turtles" progressing so slowly that some men will actually die of natural causes or other illnesses before the disease even presents itself.
Because of the mixed results - and sometimes serious consequences of treatment - there is a move afoot to not even conduct PSA exams.
In his opinion, Lange feels at some point there will be a return to PSA exams. That's because some prostate cancers are what he calls "birds," that grow rapidly into the bones.
As a result, Lange says men over 40 should get their PSA exams done, but work with their doctor in monitoring their levels.
Meanwhile, researchers like Lange are working on improving diagnosis and treatment. One of the recent breakthroughs, he says, is the discovery that prostate tumors manufacture their own testosterone from cholesterol.
The discovery was made after it was found that some prostate cancers return and expand even after a patient has been chemically castrated to remove all testosterone in an effort to kill the cancer.
With that information in hand, Lange is working on isolating the enzymes that feed prostate cancer and "turn them off."
He says the progress underway now may not offer a permanent solution to those who have prostate cancer now, but it does offer hope.
"It extends life, it doesn't cure," Lange says.