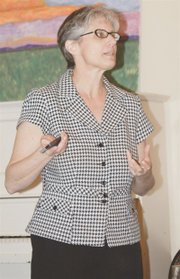 The goal of Junior Achievement is to inspire and prepare young people to succeed in a global economy. That's according to Cynthia Gartrell, the program's regional director for Central Washington, who served as the guest speaker at last week's Sunnyside Noon Rotary Club meeting.
Junior Achievement has been part of Washington state communities for 60 years, but has changed considerably in that time. The current program includes in-class learning for students that teach financial literacy from kindergarten up through high school.
Another part of the program, BizTown, involves fifth-grade students in a one-day adventure in which they run an entire (small) town, taking all the roles needed, including employees at banks and restaurants and learning how to buy and sell with checks.
All the programs are aimed at helping students become ready to enter the workforce, either as employees or as entrepreneurs. But the effect of the program is felt further by the communities, particularly in poorer areas, as students take home their new knowledge and pass it along to their parents.
"They're educating their families," said Gartrell. "Which is really cool."
Yakima has its own Junior Achievement World, a facility that contains a mock-up of a town. There are only 32 such facilities in the United States, two of them in Washington. BizTown is held there along with a program called "Finance Park" meant for middle school students.
In Finance Park, students are given a card with a scenario on it. As an example, Gartrell said she might be given a card that says she's a 26-year-old single mother with two children with a certain income. Using that income, she may have a goal, such as buying a car, that she needs to accomplish.
"The students all want the sports car," she said. "But then they find out how much it costs and go next door to learn how much insurance costs, and they change their minds."
The knowledge the students gain can help them prepare for the future.
"One student, finishing the program, said 'I know I can live on $20,000 a year, but I don't want to,'" she said. "He wanted to aim higher, get a better education and a better job because of what he learned."
Gartrell said many local schools are already participating in the programs at the Yakima facility, but one goal of the organization is to get the program into local classes.
"It matches the core curriculum," she said. "We just need volunteers willing to put in the time."
The programs at the local schools are free to the schools, but BizTown and Finance Park both require funding. She said she's helped local school districts get sponsors to help defray the expenses.
The need for volunteers is serious. Programs like BizTown need one adult volunteer for every six students in the program. A training session for BizTown volunteers will be held at Sunnyside High School on Wednesday, June 5, from 5:30 to 7:30 p.m.
Sponsors for schools are also needed. A breakfast for potential sponsors will be held Wednesday, May 1, at 7 a.m. at the JA World facility in Yakima (650 University Parkway).