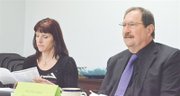 The overall message presented to the Lower Valley Hospice and Palliative Care board members this past Tuesday was that federal funding cuts require creative thinking when looking at budgets.
Executive Director Ron Jetter said, "Sequestration did happen."
He said the local organization is responding by evaluating staffing levels. He said Lower Valley Hospice and Palliative Care, also known as Heartlinks Hospice, is trying to work more efficiently, providing an appropriate level of care for its patients.
"We are putting human resources where there is a need," said Jetter, explaining personnel are re-evaluating the number of care providers needed at any given time for specific patient needs.
"We are finding there are people who are willing to work for what we consider a reasonable rate," he also told the board members after sharing the news that one provider did not feel the organization was providing enough compensation for services.
Jetter reaffirmed the fact that hospice organizations "...are the only part of the medical system that uses volunteers."
With a 35-year history, Lower Valley Hospice and Palliative Care has a voice in the larger picture that is Medicare.
Jetter said the organization has a voice when the federal health care system is seeking ways to respond to budget cuts.
One such discussion centers on how hospice organizations are reimbursed for services.
Jetter said Medicare is evaluating a cost-effective way for meeting the needs of patients. The agency agrees with studies that show savings occur when patients receive care for 54 days or more.
He told the board that there is consideration for what is referred to a "U-shaped payment system." This means hospice will be reimbursed higher levels of funding at the beginning and end of care.
"We are trying to get doctors to approve hospice care sooner," said Jetter, noting some medical professionals do not feel comfortable recommending hospice care for patients until there is a shorter time frame before the end of a patient's life.
On a positive note, he said, physicians are more amenable to palliative care. There is a benefit to such care, providing a patient an easier transition to hospice care.
"We are seeing patients on a more timely manner because of palliative care," said Jetter.
Clinical Director Debra Roe-Johnson agreed, but noted there is a concern regarding palliative care.
"Palliative care doesn't have funding," she told the board members, stating hospice organizations across the nation are evaluating how to best survive federal budget cuts while providing quality care for patients.
Roe-Johnson recently attended a consortium in Washington, D.C., where many of the concerns being addressed centered on funding needs.
"Hospice care organizations are needing to think outside the box," she said.
A seminar Roe-Johnson attended at the consortium addressed the need to use more volunteers. She said many organizations fail to seek out volunteers with different skill sets, such as office and support skills.
Roe-Johnson said volunteers can be utilized in nearly every aspect of hospice, not just in providing medical care.
"The individuals can add to our core staff," she said, noting volunteers might be most comfortable evaluating charts or answering phones.
"We're just under-utilizing our volunteers," Roe-Johnson said.
The board members also heard from the Lower Valley Hospice and Palliative Care accountant, Rebecca Valdovinos.
In her report, she said the organization is doing well and has increased its patient numbers considerably.
In 2012, Lower Valley Hospice and Palliative Care's revenues exceeded its expenses and the organization is also doing well this year, according to Valdovinos.
"This is due in large part to the support from the community and staff," she said, noting there was a large donation of approximately $36,000 from one family last year.
Valdovinos said the organization's 2012 tax form 990 will be submitted to the IRS next month.
The board unanimously accepted and approved the completion of that form before the conclusion of the meeting.
The Lower Valley Hospice and Palliative Care board will meet again on Tuesday, May 21.